Shady O' Grady's Rising Star - Introduction


Ever wondered what it's like to be in a band? Up all night writing killer lyrics, on the road in a Ford Transit van with four sweaty men cramped in the back rushing from one gig to another, having to choose the right equipment for the band, hiring a manager, making your first CD, and of course, partying all night.

Most of us dream about strutting our stuff on stage, but we don't have the desire nor the skill needed to turn it into reality. Shrapnel Games and Gilligames have conjured up the perfect solution. The first ever RPG set in the World of music is the ideal solution to your rock 'n roll blues and a far better alternative for those who are more confident in playing games on the PC than parading in front of a crowd of unforgiving rock enthusiasts at the local mosh pit.

Shady O' Grady's Rising Star takes you on a journey through your musical career by putting you in control of every aspect of your band's success. You'll begin with no instruments, no band members and limited funds. The main objective of the game is to form a band and become the most successful group since the Beatles (well..Led Zeppelin for me.)

Shady O' Grady's Rising Star is an RPG that encompasses the whole gigging lifestyle, from building up cash by working for your local music store to hiring a band manager that will hopefully book you that life-changing gig. It's not easy to build a successful group, it takes meticoulous planning, a harmonious band, plenty of practice and a dozen other factors.

From the initial fret board-styled menu screen, that boasts a rather sexy rock chick and a mouse pointer in the shape of a guitar, to buying band t-shirts to sell at gigs , to rocking in front of huge crowds, Shady O Grady's Rising Star opens a portal into the musical world where you'll live and breathe this new career and become increasingly passionate about your band's success.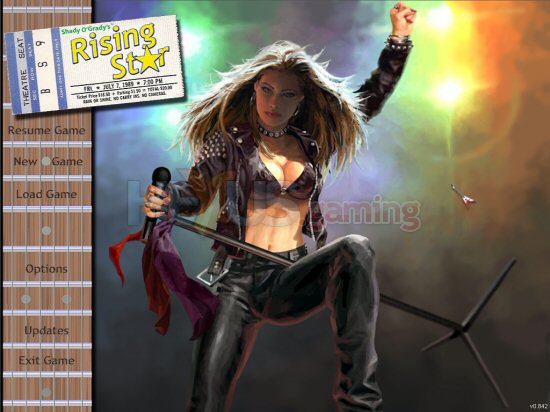 Click for larger image



The game begins by choosing a band name, your role in the group and the band's preference towards musical style. The options are plentiful and Shrapnel games haven't just catered for those who want to be the vocalist or lead guitarist in the band; they've also included the choice of playing with a harmonica, saxophone or even a trombone.

Let's get this clear from outset, you won't actually see these instruments being played or your own tunes being blasted out to a fevered audience. This is a role-playing game where you'll spend the majority of time gaining EXP by simply clicking on the numerous options within the menus and sub-menus, and taking part in mini-missions and objectives through the use of your tour bus (battered old van).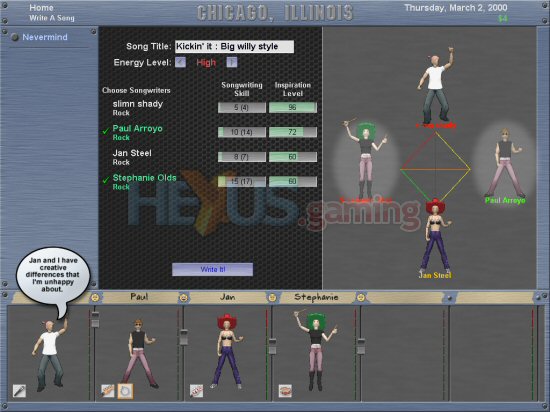 Click for larger image



There are also ten musical styles to choose from, from Ska to folk. These initial choices set up a framework for the band. For example, if you're band's style is punk, you'll gain more EXP and other attribute enhancing points by watching other punk bands rather than sitting in on a Blues concert - more about this later.