How do you make something good even better?
Now if you believe even half of what Harmonix PR Coordinator John Drake has to say, not only is Rock Band 2 going to be awesome, it's going to be so incredibly awesome as to make you never need to play any other 'band orientated' music game. To be fair to John, he didn't once use the word awesome in his presentation… but he also studiously avoided using the words 'Guitar Hero World Tour'… perhaps to show that GHWT isn't on the Rock Band 2 radar but more likely, I think, just because he has too damn much to cram into his presentation.

I have to admit, walking out of the demo after having superbly thrashed my way through a few songs, perhaps the most lasting and telling comment from John was that Harmonix innovates and then perfects… and looking at what they're doing with Rock Band 2, I'm inclined to believe them. So much so that I'm now seriously thinking of telling non-Rock Band owners to hold off buying it and wait for Rock Band 2…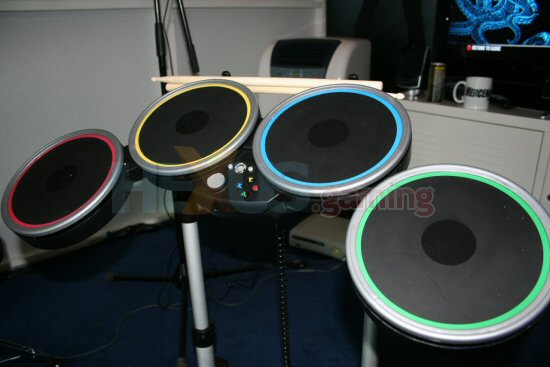 Click for larger image



Why would I deprive you of the goodness that is Rock Band? Well, put simply, you'll be kicking yourself for buying the limited, crappy, noisy, breakdown-prone wired drum kit that comes with Rock Band when you can have the bloody marvellous, wireless Rock Band 2 drum kit instead. Honestly, it's that good. I've had Rock Band since February and thought myself a fairly accomplished drummer and, with the recent addition of a set of Mad Catz silicon pad covers, the rebound and noise reduction has improved my skills even more… but all that pales into nothing when you sit down behind the Rock Band 2 kit.