Warfare on an unprecedented scale
HEXUS.gaming has teamed up with Kalypso Media to giveaway three copies of the upcoming PC World War II real-time strategy game Officers: World War II, in addition to a NVIDIA Geforce 9800 GTX+ for one lucky reader.

Officers provides World War II real-time strategy gamers with warfare on a previously unseen scale, with more than 1,500 units fighting simultaneously across up to 10 square miles of battlefield.

You command the US combat units with your aim being to smash the Germans' western front. Speed and power will help you on the way to victory if you extend your troops' supply lines and capture enemy emplacements and depots.

Included in the substantial list of features are:

• Historically correct battles, beginning with the Normandy landings
• Infantry can barricade and entrench in houses, trenches etc.
• Up to 1,500 units simultaneously in one sector
• Multiplayer mode for up to 8 players involving Allied, German and Russian troops
• More than 70 different unit types (Infantry, light vehicles, tanks, artillery, air troops, navy)
• Map Editor to design scenarios and missions in either single or multiplayer mode
• Elaborate winter and summer scenarios
• Surroundings completely destructible
• Sophisticated resource management
• Taking of enemy emplacements with house-to-house combat in an urban environment
• Realistic change between day and night
• Combined artillery, infantry and air-force operations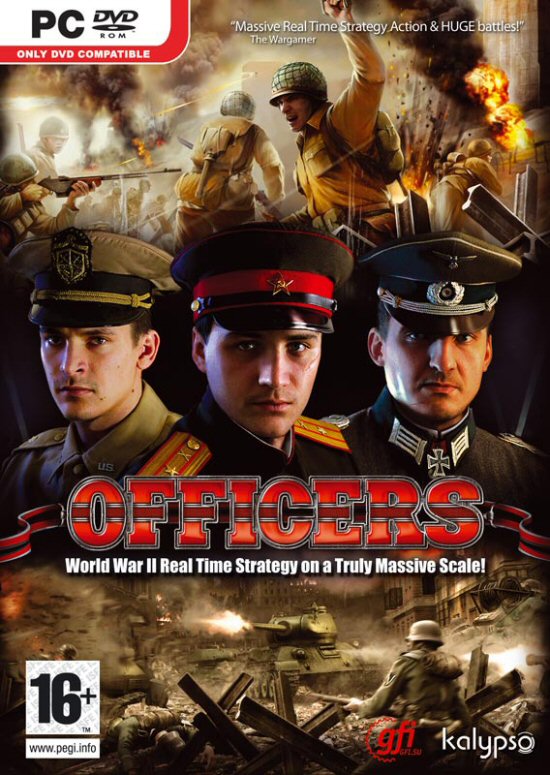 In multiplayer mode, you can also command Russian or German troops in historical battles such as Operations Overlord, Millennium and Cobra controlling tanks, artillery, air troops and ground infantry.

To see the trailer, click here: http://kalypsomedia.com/trailer/Officers_Trailer.wmv

Officers: World War II will be available on the 22nd May 2009 at a RRP of £24.99

Prizes on offer:
1st prize: Geforce 9800 GTX and one copy of Officersi
2nd prize: One copy of Officers
3rd prize: One copy of Officers

To be in with a chance of picking up one of these great prizes, simply send your name and address to our competition email address with the header 'Officers' before the closing date of 5th June 2009.

Check out the screenshots overleaf...