The guitars dude! Don't forget the axes!
Guitar Hero III: Legends of Rock will include plenty of new content and features including a multiplayer action-inspired battle mode, boss battles, a host of exclusive unlockable content and all new rock venues. Expanded online multiplayer game modes will also allow axe-shredders worldwide to compete head-to-head for true legendary rock status. While continuing to retain all the key features from their prior legendary performances, fresh downloadable content will be offered on multiple platforms, and players can now shred to a killer set list from many of the most popular rock songs ever recorded.



The Xbox 360, Wii and PS3 guitar



For the first time ever, Guitar Hero fans will also be able to thrash and burn with new wireless guitar controllers available for each platform, including exclusive Gibson Guitar's Les Paul model for the Xbox 360, Wii, and PS3. PS2 gamers will also get to shred on a new exclusive shape, Gibson's Kramer guitar, popularized by hard rockers and known for its body design, pickups, electronics and construction for furious finger fretting.



The PS2 guitar



Guitar Hero III: Legends of Rock, published by RedOctane and developed by Neversoft, will be available this October.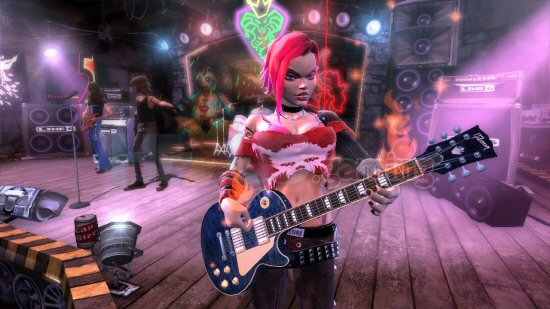 Click for larger image