Four different ways to play Rock Band


Sony paved the way for innovative and interactive music games with the launch of the popular karaoke series, Singstar. Following its phenomenal success, Harmonix Music Systems pushed the limits even further with the incredible Guitar Hero series and now they're all set to unleash their latest musical prodigy, Rock Band, on the public later this year.

Rock Band is an ambitious project that will allow gamers to play as guitarist, a bassist, a drummer and a singer as they vie to become the greatest band in the world.

Rock Band will feature four different types of gameplay: The Guitar gameplay will be similar to Guitar Hero with gamers using a Fender Stratocaster model to play approximately 55 tunes. The singing part of the game will utilise a Karaoke-style interface with gamers being rated based on their vocal tone and rhythm (similar to the Singstar series). Drumming will be carried out with custom built drum kit which includes drum sticks, pedal, kick pedal and four pads and finally players will be able to switch over and play the bass line with their Stratocaster.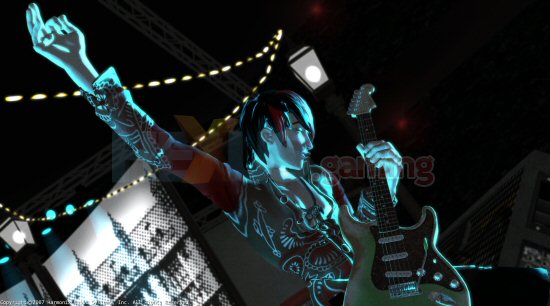 Click for larger image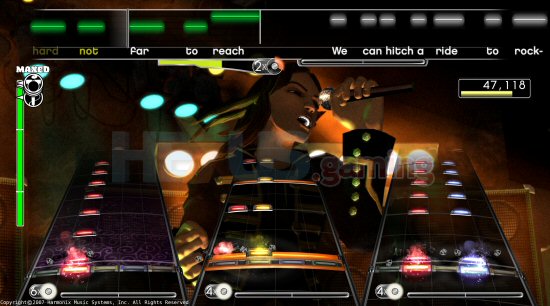 Click for larger image



Harmonix have also confirmed information on the game modes that we can look forward to:

Modes
Master the basics! No need for experience. Pick your weapon of choice and ascend from beginner to rock god using Rock Band's Tutorial Mode.

Perfect your tune! Breakdown any part of any song at your preferred speed with Rock Band's Practice Mode.

Instant fix of fun! Jump into any unlocked song for some quick jam time either on your own or with other players with Rock Band's Quickplay Mode. Take it on the road! Pack up your instrument of choice and set out on the open road for a fun and challenging single player career mode with Rock Band's Solo Tour Mode.

Conquer the world! Live the ultimate rock band lifestyle when you form a band locally or online and set out on tour. The journey to rock stardom takes you from small town bars to world-renowned venues. Earn fame and fortune along the way to secure rock star necessities with Rock Band's Band World Tour Mode.