mceDivX360 - A Guide by casey chesnut from brains-N-brawn.com


Stream DivX movies to your Xbox 360 using Media Center

Introduction This article shows how to stream DivX (and XviD) movies to an Xbox 360 using a Media Center. For the picky people, it doesn't actually stream DivX ... it converts to WMV on the fly to stream. The core process for accomplishing this is taken from a thread found on the Xbox forums: Playing DivX movies without having to Re-encode, through media centre and this might be the original post (in German): Divx mit Mediaencoder auf die Xbox360 streamen!, so they get credit for pioneering this approach. It works fine, but has the disadvantage that you have to manually set up the encoding process on your Media Center and then move over to the Xbox 360 to watch it. So all this article really does is provide an MCE interface so you can control everything from your Xbox 360 being used as an MCE Extender. i.e. it's for lazy people. It was also an excuse for me to write a ListMaker AddIn for MCE ... which I hadn't done yet, not to mention my MCE setup doesn't have a TV Tuner and only has 32 megs of video RAM, so I cannot play video on it at all :(

NOTE: this is not a mod solution or an Xbox 360 hack. This works purely using the extensibility points of Media Center and freely available tools from MS. i.e. no warranties will be voided and, when Vista MCE comes out, we'll be able to radically improve this. Aren't APIs wonderful?

Have to say that the limited edition remote absolutely sucks, bought the Universal Remote and it's pretty crappy too, but with backlit keys and more buttons. My old MCE remote can work with the X360 too and it seems to work slightly better. The wireless controllers are much more reliable. I'm thinking that MS should make a remote that uses the same tech as the wireless controllers.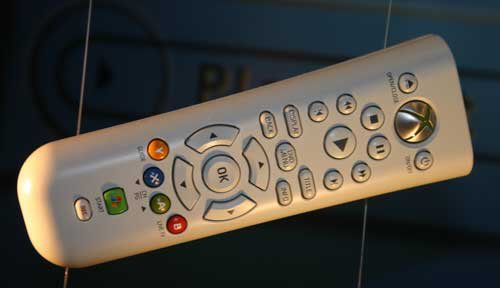 HEXUS.links: Check out casey's homepage at www.brains-N-brawn.com.