Come December 2, 2010, five years will have passed since the launch of Xbox 360. That's five years crammed full of great games that have kept us hooked to our consoles through good times and bad, whatever the weather. It's therefore a difficult task to pick five games that really stand out over the years , but we're finally happy with the ones that we've chosen - though inevitably there were some arguments over some of the brilliant games that just haven't made the cut, such as the Gears of War or Call Of Duty games.

Nevertheless, a decision had to be made and these are the five games that we ultimately have a soft spot for, and will be the games we'll still remember the most when the next generation of consoles lands. We're kicking off this feature, which will run over the next week or so, with our number five, and then we'll count down in reverse order to our all-time favourite. Of course, some of you will agree and some will disagree with our choices, which do tend to favour our preferred genres, so do let us know your favourite games of the last few years over in the HEXUS forums. Without further ado, let's crack on...

Number 5 - The Orange Box
Open The Orange Box and you'll find a treasure trove of great games. This bundle is great value for money, with not just one but five games to keep you occupied, including Half-Life 2: Episode One and Two and the original game; Team Fortress 2, the sequel to the game that put class-based, multiplayer team warfare on the map, and Portal, a unique and engaging puzzle game that involves using a portal gun to create inter-spatial portals between flat planes in order to solve environmental puzzles.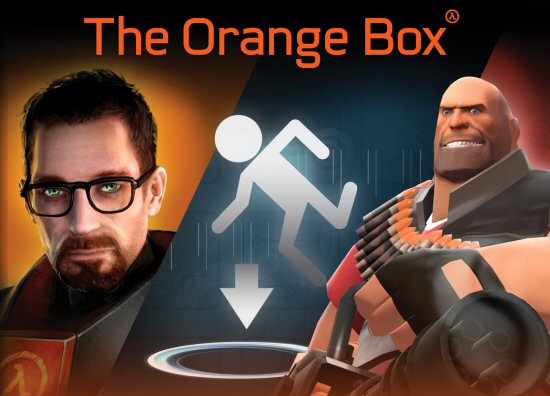 The Orange Box opened up the incredibly popular Half-Life universe to console gamers, who may never have played the original games on PC. And it's a real testament to the quality of the physics and mechanics in the game, such as the brilliant gravity gun, that it still feels just as fresh today. Half-Life was ahead of its time in terms of providing an all-round solid, entertaining shooter experience, but it also wrapped it all up nicely with a great narrative to suck you in.

It seems unlikely that there are many first person shooter fans out there who haven't yet sampled the delights of The Orange Box, but if you're one of them you're still not too late. The gameplay across all of these five games never gets old.

Countdown to number one continues tomorrow.