What is Jasper?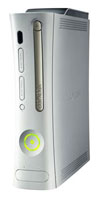 This Friday, September 19th, Microsoft will be cutting the cost of its Xbox 360 console to as little as £129.99.
The drop in price comes just weeks after similar price cuts in Japan and the USA, and Microsoft will be subsequently expecting a significant boost in sales.
However, the tech-savvy consumer may find that the days or weeks following the price cut may not be an opportune moment to buy, and the reasoning is Jasper.
Jasper, a codename given to an upcoming Xbox 360 hardware revision, will provide - we hope - a cooler, quieter and more reliable Xbox 360 console. The revision isn't the Xbox 360's first, either. Since its launch in November 2005, Microsoft has upgraded the Xbox 360's innards on numerous occasions. The trouble is, it never tells us when, or what to expect.
Not that we blame them, mind you, they're not exactly going to label on-the-shelf boxes as being better than others. Fortunately, there's a way to detect the likelihood of an Xbox 360's innards and we'll get to that later. But first, what does Jasper have to offer and why does Microsoft make these hardware revisions?
At launch, the Xbox 360 featured a graphics processor and central processor built on a 90nm fabrication process. The plan, as always, is to shrink that process and consequently reduce manufacturing costs. These savings, in theory, can then be passed on to consumers - hence the occasional price cuts.
The Jasper revision is the most significant Xbox 360 update thus far, as it introduces the first Xbox 360 console with both a 65nm CPU and a 65nm GPU. The Xbox 360's highly-publicised failure rate - synonymous with the RRoD (Red Ring of Death) - is thought to be caused by overheating, a problem directly related to both the GPU and CPU. Jasper, then, should all but eliminate overheating problems.
It's also worth noting that GPU and CPU shrinks aren't the only changes made internally. In the Xbox 360's two-and-a-half year lifespan, Microsoft has added a HDMI port, changed its motherboard layout, and included quieter DVD drives.
So, is Jasper really worth waiting for? Let's take a closer look at the Xbox 360 timeline.