Play archery with Avril
Through its EA Sports Freestyle Brand, Electronic Arts is developing a new sport's game aimed at the casual and party gaming audience.
Celebrity Sports Showdown features 12 outdoor sports games that are playable by recognisable (apparently) celebrities. We do recognise Fergie, Avril Lavigne, LeAnn Rimes and Nelly Furtado strutting their stuff, but we guess the rest are more famous in the US rather than Europe, because we've never heard of them.
Athletes like Paul Pierce and Mia Hamm will be playable, as well as a couple of 'celebrities' called Kristi Yamaguchi and Reggie Bush (not sure who they are).
The controls will be designed specifically for Wii and there's an interesting choices for sports, including Inner-Tubing, where you hold on tight as you fly behind a speed boat; Joust Duel; Slalom Slowdown and Curling.

"We feel that this game is the EA SPORTS Freestyle answer to a great Wii party game. It explores the lighter side of sports and pulls inspiration from the entertainment spectacles that are so prevalent in pop culture today," said Dave McCarthy, Executive Producer. "Celebrity Sports Showdown will bring people to the party with a collection of games and celebrities that appeal to everyone."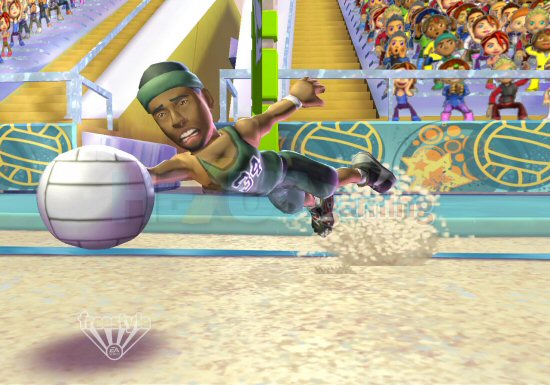 Celebrities featured listed below:

• Fergie
• Avril Lavigne
• LeAnn Rimes
• Keith Urban
• Nelly Furtado
• Paul Pierce
• Mia Hamm
• Kristi Yamaguchi
• Reggie Bush
• Sugar Ray Leonard

Games featured listed below:

• Beach Volleyball
• Inner-Tubing
• Wild Water Canoeing
• Hurdle Derby
• Slalom Showdown
• Cliff Hangers
• Smash Badminton
• Rapid Fire Archery
• Joust Duel
• Curling
• Arena Dodgeball
• Air Racers
Celebrity Sports Showdown is due for release in Winter 2008.
Check out the screenshots overleaf.