Those strawberries look mighty tasty
With sales consistently lagging behind its main competitor in the hand-held market, the Nintendo DS, Sony hopes to catch the eye of those hand-held gamers who have yet to experience its Playstation Portable, by releasing an upgraded model this October.
Along with some wide-eyed new customers, Sony hope that the new added features will be enough to tempt PSP Slim and Lite owners- and certainly early adopters who bought the initial hand-held back in 2005 - to upgrade to the PSP 3000.
Currently, Game and Gamestation are offering trade-in prices of approximately *£50 for the PSP base model and £60 for the PSP Slim and Lite. Therefore, if you're thinking of trading in, you'll be able to pick up the PSP 3000, which will retail at £150, for approximately £100 and £90 respectively on its launch. That's if you trade-in now though say both Game and Gamestation who have told us that they firmly expect trade-in prices to drop over the next month as gamers throw out the old and get ready for the new.
But, Is it actually going to worth upgrading? Well, the PSP 3000 offers very few new features, but its jewel in the crown is the new look LCD screen.
Usually, a slight upscale in visual quality wouldn't be enough to convince us to upgrade but, providing the image below (showing the comparison between a Slim & Lite and a PSP 3000) hasn't been altered by hand, then there really does seem to be an incredible difference between the two models. Of course, it's hard to tell just how good the difference is until you have both the PSP Slim & Lite models in your hands, but first impressions suggest that the "higher contrast ratio, shorter response time, and wide colour gamut" that Sony say it will boast, will significantly improve the visual quality of games and movies. Furthermore, the PSP 300 will have an anti-glare function to make gaming easier under different lighting conditions.
The improved LCD screen is going to come at a price though. Reports, originating from Gamespot, reveal that the new screen will draw more power from the battery making overall battery life diminish by approximately 20-30 minutes. It's certainly an inconvenience, but Sony's John Koller believes:
"That's going to be off-set because we're still going to have the extended life battery that's still available for the consumers, so they're still going to get the 8 to 10 hours out of that battery. Or the battery that comes with the PSP will now be right around three and a half to four hours."
Even though the poorer battery performance doesn't worry us, the unique selling point of the PSP 3000's upgraded screen just isn't enough to tempt us to upgrade, especially when you take into account that the quality of the PSP 2001 screen is still very good. For us, the hand-held is still first and foremost about the games more than anything else, so although the improved LCD screen undoubtedly looks better, it isn't enough on its own to warrant us shelling out 100 notes.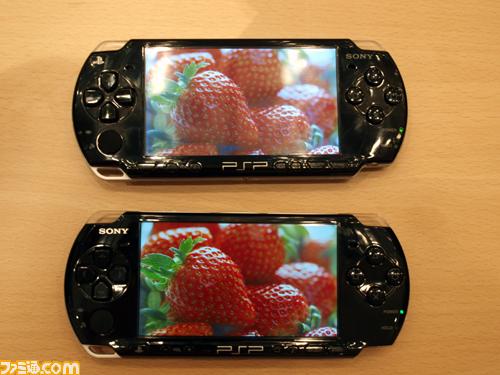 Techincal specs:
4.3 inches (16:9) full-transparent type, TFT drive,

480 x 272 pixel, Approximately 16,770,000 colours displayed
So, what else has the model got that may tempt us to upgrade?
Continued overleaf...