Ying Shi talks about the inspiration for her artwork
Without the wild and wonderful characters created by some of the brilliant illustrators in the industry our video games just wouldn't have the same appeal. One such illustrator, who has conjured up a host of inspirational character and boss designs for the free to play MMO TLBB, is Ying Shi.

Here, Ying gives us a rundown of how she went about designing these formidable characters, giving us a unique insight into the role of an illustrator.

Please introduce yourself:
Hello everyone, my name is Ying Shi and I am from Beijing, China. I've been working for ChangYou as an illustrator now for over 2 years and hope to develop my career further within the company.

How long have you been an illustrator for, and did you always want to be involved in MMO games?
I've been an illustrator for over 4 years and used to work in a mobile phone game design company before that. My interest in PC games development and the gaming industry made me want to express my value as an illustrator (as well as my design work) and so I joined ChangYou in order to expand this facet of my work.

How did you go about designing the bosses/a boss of TLBB and what were the main influences and inspirations of your art work?
The works of an illustrator at ChangYou and projects such as TLBB include lead set designs, mount designs, pet designs and NPC monsters as well as other areas of artwork… boss designing is just one part of my job criteria. Due to the size of the entire project, one illustrator will work on a variety of different projects and not only focus on one area. I was working as an animation designer before my work became influenced by Japanese and Korean styles, however, since I got in touch with online PC games, I found I was more interested in designing European and American games. I found myself reading lots of design books and studying their art-work in detail and although my inspiration came largely from traditional Chinese culture, I realised that versatility as well as passion for art left a good impression on both me, and the people looking at it.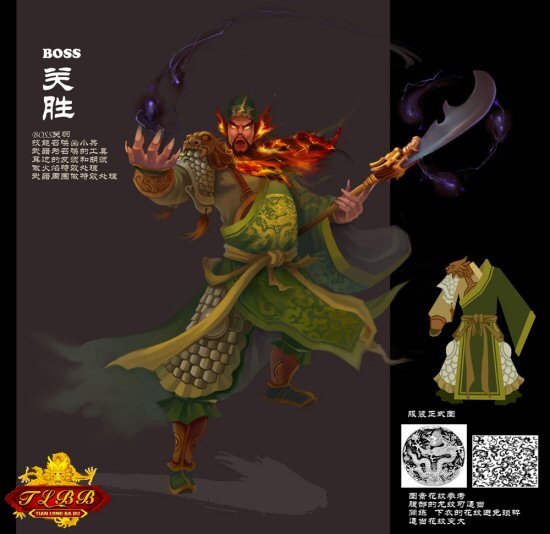 Continued overleaf...