So, what's new?
Blizzard give us the lowdown on the highly anticipated Diablo III.
What is Diablo III?
We're developing Diablo III to be the definitive action role-playing game, and a true continuation of the Diablo series. Players will create a hero from one of five distinct classes, such as barbarian or witch doctor, each equipped with an array of spells and abilities. As these heroes adventure through rich and varied settings, unraveling an epic storyline and engaging in combat with hordes of monsters and challenging bosses, they'll grow in experience and ability and acquire items of incredible power.

The game takes place on Sanctuary, a world of dark fantasy. Unbeknownst to most of its inhabitants, Sanctuary was saved some twenty years ago from the demonic forces of the underworld by a few brave and powerful heroes. Most of those warriors who directly faced the armies of the Burning Hells -- and were fortunate enough to survive -- went mad from their experiences. And most of the others have buried their haunted memories and pushed the horrors from their thoughts. In Diablo III, players will return to Sanctuary to confront evil in its many forms once again.

Diablo III will be a fitting sequel to Diablo II, with the easy interface, fast-paced action, and visceral gameplay that Diablo players have come to expect and enjoy. It will also include many new features that will take the Diablo action-RPG experience to the next level. We look forward to going into much more detail on our plans for Diablo III as development on the game progresses.

What's new about Diablo III compared to the previous Diablo games?
Exciting new classes like the witch doctor bring new gameplay options to the table. Returning classes, like the barbarian, have been completely redone with new skills to give them a feel unique to Diablo III. New customization options will provide for an even greater level of character specialization than the previous Diablo games, allowing the player to create unique characters brimming with power.

Diablo III is powered by a new graphics engine that can display characters and hordes of monsters in lush, fully 3D environments. Powerful special-effects systems and Havok-powered physics allow the player to lay waste to the Hells' minions in spectacular ways.

Also, Diablo III builds on the random environments of the previous Diablo games by introducing a host of new ways to create random scripted events throughout the game. This creates a dense and exciting world alive with quests, NPCs, dynamic encounters, and viciously challenging new monsters and bosses. Diablo III's environments add a great deal of interactivity to the game, including destructible elements and environmental obstacles that can be turned against your enemies.

In addition, Diablo III will benefit from Battle.net upgrades that will provide some exciting new features for players. Cooperative online play remains a primary focus, with multiple enhancements being planned to make connecting with your friends easier and cooperative gameplay even more fun. We'll have more details on all these aspects as well as other exciting new features at a later date.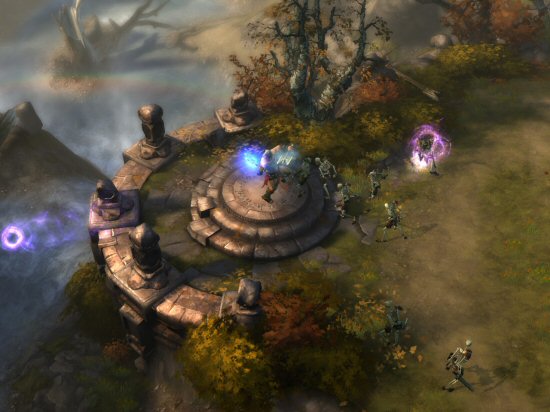 Continued Overleaf...