A year of sequels awaits
2012 has a lot to live up to. With 2011 delivering some of the best games in recent years, with strong-selling franchises such as Dark Souls, The Elder Scrolls V: Skyrim and L.A. Noire proving that not everyone in the world spent Christmas playing Modern Warfare 3 and Battlefield 3, we've got our fingers crossed that this year will deliver more of the same.

Flicking through the 2012 release schedule, it looks like we won't be disappointed either. Though the upcoming year is littered with sequels and established franchises, developers have now had plenty of time to harness the power of the Xbox 360 and PS3 and will be seeking to improve on some of gaming's best loved titles with graphical upgrades, feature enhancements and complete reboots.

Meanwhile, Sony plans to move past the poor performance of the PSP, which suffered largely due to the lack of quality software behind it, with the launch of PSVita, which looks to be an impressive piece of hardware that may warrant the attention of game developers providing units fly off the shelves.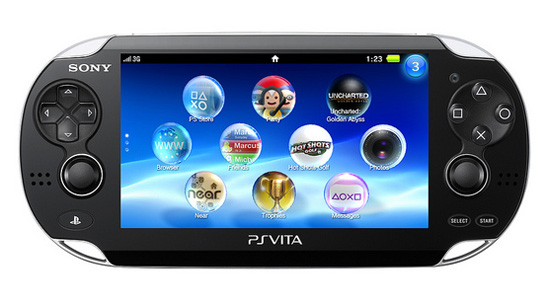 Launch of PSVita in 2012, but will the good games arrive?

We can also look forward to some of the biggest PC games of recent years, including the long-awaited Diablo III and Guild Wars 2, both of which look set to have long futures ahead of them. Hey, we may even get a glimpse of the future if Xbox 720 and PS4 do, as rumoured, get announced at E3 in June.

And let's not forget Wii U either, which Nintendo looks likely to release near year end. The Big 'N' will no doubt launch its new console with an impressive line-up of weird and wonderful games designed to push the boundaries of conventional gaming.

Whatever your desired platform - whether you're a fan of shooters, RPGs or glitteringly-produced action adventures - there should be plenty of choice for gamers in 2012. So, without further ado, here are ten of the games that we're most looking forward to this year. You'll agree, and probably disagree, with some of the choices we make, so do let us know which games are on your wish list too.
1. Uncharted: Golden Abyss
With the rise in popularity of gaming on smartphones and tablets over the past few years, and the decline in sales of dedicated portable gaming devices, it remains to be seen whether there's still a big enough market out there for PSVita, which hits UK shores in February 2012.

Nonetheless, we've been impressed by what we've seen so far and among the launch titles there are a few games we're looking forward to, none more so than Uncharted: Golden Abyss.

As one of PlayStation's biggest and best franchises, Uncharted: Golden Abyss is likely to set a benchmark for the action-adventure genre on PSVita, and it does looks suitably impressive on the 5in OLED display. Indeed, the touchscreen functionality of Sony's new handheld should lend itself very nicely to Nathan Drake's platform-hopping skills.

Tapping on the screen to climb up a ledge, or using the gyroscope function to swing from a rope, are just two ways that players are able to perform context-sensitive actions. Dense jungles, cinematic scuffles, slick animation and a compelling narrative are all promised when Uncharted: Golden Abyss arrives as one of PSVita's premier launch titles. And, if it's even half as good as Uncharted 3, we're in for a real treat.


2. Ghost Recon Future Soldier
The Ghost Recon franchise set the benchmark for online gaming on Xbox back in 2001 when Xbox Live was in its infancy. Numerous expansions and sequels later it continues to provide a refreshing change of pace across multiplayer platforms, in comparison to many other shooters, putting slower-paced tactical warfare before run-and-gun machismo.

The last game in the franchise, Ghost Recon Advanced Warfighter 2, was released in 2007 so fans have been waiting a long time to get their hands on a new instalment. But its absence has certainly made the heart grow fonder in HEXUS towers, and so far there are plenty of indications that Ubisoft has advanced the series to a new level of greatness.

New features, such as optical camouflage, drone support and extensive customisation options, look set to deepen the tactical experience, while Xbox 360 owners will benefit and enjoy a new experience with voice and gesture controls via Kinect. What we're most looking forward to, however, is the Ghost Recon multiplayer experience. Ubisoft has great pedigree in the online multiplayer arena and we know it's capable of producing a robust and impressive system for online skirmishes, as well as some great maps. Could this be the best Ghost Recon game as yet? Only time will tell, but we've got our fingers crossed.


3. Tomb Raider
Lara Croft has needed a significant face-lift since her lacklustre appearance in the last couple of Tomb Raider outings. Judging from the gorgeous-looking trailer below, we're going to be in for a treat this year.

The Tomb Raider reboot will see 21-year-old Lara Croft fighting for survival as she gets washed ashore on an island off the coast of Japan. With a heavy emphasis on combat, a sprawling universe that looks just as impressive as the Uncharted series, and the inclusion of cinematically-charged quick-time events, it's clear that a lot of money has been ploughed into development. As a result, production values should be top-notch.

We're looking forward to finding out whether the new underlying skill system and re-jigged combat scheme can inject some much-needed energy into one of gaming's most successful franchises. Both publisher, Square Enix, and developer, Crystal Dynamics, have invested a lot of time and cash into the new look Lara, so we have high hopes that we'll all benefit from their renewed desire to bring Lara Croft crashing into the modern era of gaming. Let's hope she still sports a tight-fitting top, too.