Specs and discussion



Picture and display


* Effective display area - 137mm x 91 mm (5.4in x 3.6in), 6.5in diagonal
* Vertical dot pitch - 0.1905 mm
* Horizontal dot pitch - 0.1905 mm
* Resolution - 720 x 480 pixels (133 pixels per inch)
* Brightness - 200 cd/m2 (aka nits)
* Viewing angle (CR>5) - Horizontal (-85deg~85deg), vertical (-85deg~85deg)
* Backlight half-life time (lifetime until 50% brightness) - 20,000 hours




Connectivity


* USB socket for connection to PC or camera (cables supplied)
* Card reader - built-in Secure Digital (SD), Multimedia card (MMC), Memory Stick (MS, MS Pro), CompactFlash (CF) Type-I only




Convenience


* Photo formats supported - JPEG only, up to 12M pixels and following EXIF and DCF standards
* Memory size – 12MB ("50 photos or more")
* Placements supported - landscape, portrait
* Control buttons - six
* Display modes - automatic slideshow, full-screen browse, thumbnail browse




Power


* Power modes supported - battery powered, AC powered
* Power LED indicator green (power on), off (power off)
* Battery LED indicator orange (charging), off (not charging)




Included accessories


* Photo-display stand
* AC power adaptor
* USB cable to PC (male A-type plug)
* USB cable to digital camera (female A-type plug)
* Quick start guide
* CD-ROM with user manual in PDF format




Dimension and weight




* Dimensions - 212(w) x 164(h) x 105(d) mm.
* Weight - 73g


Although Philips says that the 7FF1AW is a seven-incher, the specs say (quite rightly) that the visible screen diagonal is actually 6.5in. That gives you a picture area of 5.4 x 3.6in (137 x 91mm) - a little smaller than a standard 6in x 4in photo-lab print.


This size of display is fine for an office desk or a small bedroom but bigger rooms would benefit from something larger – the size of a 7 x 5in print or even bigger.



Claimed screen resolution for the Philips is 720 x 480 pixels. That's higher than many competing 7in models and equivalent to 133 pixels per inch, which the company says is 88 per cent more than with an average 17in monitor.

The result is reckoned to be a print-like display quality, "with all the rich detail and vibrant colours you're accustomed to in printed photos."

Well, fact is, I'm very accustomed to rich detail and vibrant colours in printed photographs and have to say that, somewhat to my surprise, I was impressed and pleased by the picture quality of this product.

The sharpness, contrast and colour accuracy of the display is excellent and it definitely is fair to say that it is print-like in quality.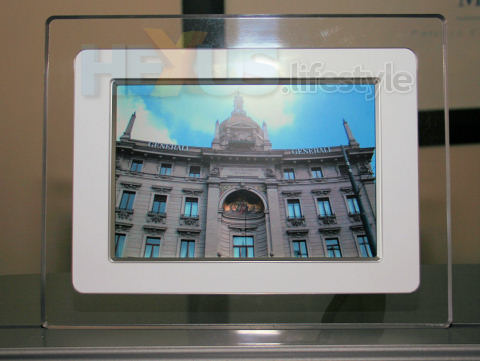 Screen brightness is adjustable and the unit came pre-set on the highest level. This was more than adequate, even with direct overhead lighting, and certainly bright enough for most home or office situations where you'd site a printed picture.

The 7FF1AW features a timer, allowing you to set a different brightness level for the evening, when there's normally less ambient light to compete with the display.

You can also use the timer to automatically switch the unit on and off, so you don't have to worry about remembering to do that.

The display connects to a camera or PC via supplied USB cables. It can display pictures in portrait or landscape mode and has a 12MB internal memory.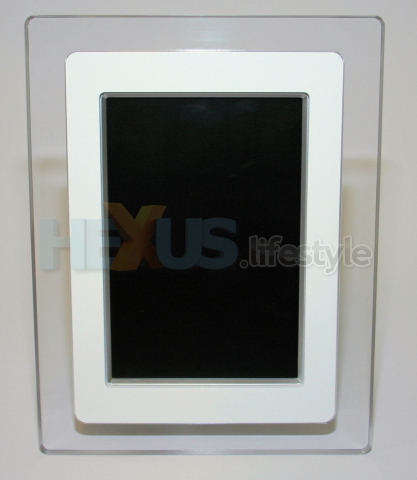 Twelve megabytes might not sound much if you're taking photos at high resolution that can readily be 2MB in size or much bigger but if you reduce them to the maximum resolution of the photo frame, you get files of around 300K, so there's enough room to store around 40 snaps.

If that's not sufficient for your needs - or you can't be bothered with the hassle of resizing photos - you can always store the pictures on a memory card and that's my preferred option.

The 7FF1AW can read JPEG images up to 12MB in size and its two memory-card slots can handle a decent range of cards - SD, MMC, Memory Stick and Type-1 CompactFlash.


You can copy pictures to the internal memory from a camera, computer or memory card and view them from the built-in storage, a camera or a memory card.

Once you've decided on the source for your pictures, they can be viewed in three ways - as thumbnails, as a slideshow or browsed manually for pic-by-pic viewing.

Slideshow mode offers transition effects such as fade, scroll and slide; transition frequencies of five seconds to one day; and sequential play or random play.

There are two ways to power the 7FF1AW - via the built-in rechargeable battery, though that only lasts for around 50 minutes, or directly from the mains using the bundled mains adaptor/charger.

Overall, then a pretty decent package. But what's the bottom line? Dive over the page to find out…