Setup and usage
Setting up the Logitech's Harmony 300i is a breeze, and most users should be up and running after just 10-15 minutes.
But there are a few important provisos that less-technical users should be made award of. In order to configure the remote, you'll need two key pieces of equipment; a PC or Mac computer and an Internet connection. Without those, we're afraid you're out of luck.
If you're reading this, though, there's a good chance the above doesn't apply so here's a brief rundown of Logitech's new-and-improved setup process.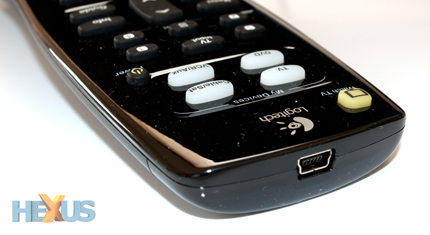 Like most Harmony remotes, the 300i connects to your PC or Mac via a mini-USB connector.
Logitech supplies the cable, and once the remote has been attached, you visit the new myharmony.com web site, punch in your email address and password, and download the web-based configuration software.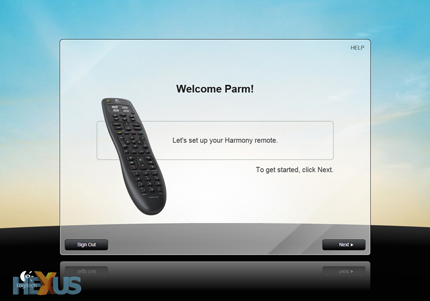 From here on in, it's very, very simple, with Logitech's interface carefully guiding the user through each individual process.
You're first prompted to have your device information ready, and Logitech provides links to help you find a model number for your TV and other equipment.
What's useful is that the Harmony range now supports some 225,000 devices, and you can check compatibility with your hardware before you buy by using a free tool at Logitech.com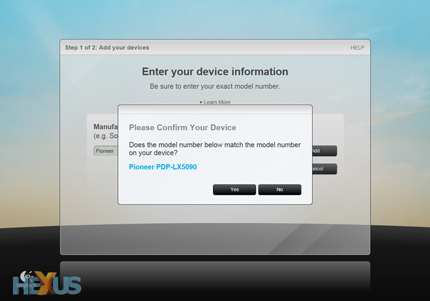 In our case, the setup wizard had no trouble identifying our four available devices; a Pioneer TV, a Sky HD receiver, an Xbox 360 and a PlayStation 3.
But not all of our devices are supported out of the box. Sony's PlayStation 3 doesn't have an infrared (IR) receiver, and consequently isn't able to recognise the Harmony 300i's commands. PlayStation 3 compatibility is only available via an adapter priced at £44.99.
Beware of the costly inconvenience, but note that the PlayStation 3 is a rare exception. Generally speaking, if your device is controlled by an IR remote, it'll work with the Harmony 300i.
With your devices added, you're given the option to view a demo video, unplug and try out your remote, or make some finer adjustments.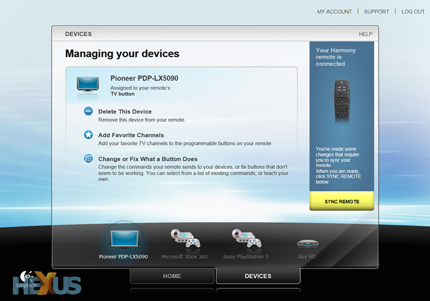 Delving deeper, the setup utility then lets you configure your four Favourite Channels by typing in your chosen channel numbers, and if need be, you can also modify other buttons through Logitech's impressive "fix what a button does" wizard.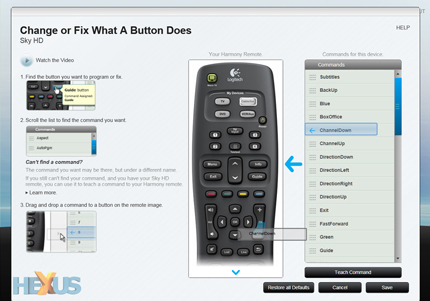 Most buttons are pre-configured sensibly, but in an effort to make it as easy as possible to tweak the remote to your liking, users can drag and drop commands to individual buttons using a graphical user interface.
Using the wizard, the remote's volume controls can be assigned to one specific device, allowing your TV's volume to be adjusted regardless of which device you're controlling.
The same wizard also lets you configure the Watch TV activity button; you can choose which devices are powered on when pressed, and which TV input is selected. It's quick, intuitive and doesn't come much easier than this.
The pre-defined set of commands is pretty comprehensive, but if your desired function isn't listed, you can teach the 300i new commands by pointing your existing remote toward the bottom of the Harmony 300i.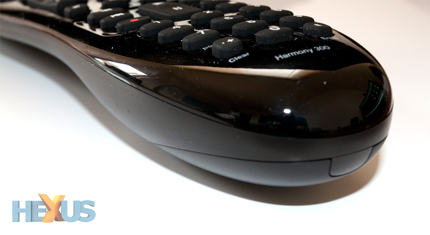 Using a built-in infrared receiver, the 300i will happily record and replicate your button press.
The complete setup process shouldn't take longer than 15 minutes. And, if you aren't happy with your button configuration, you can plug back in and make adjustments at any time.