Introduction
Y-cam is best known for its range of smart indoor and outdoor security cameras, and having sold over 250,000 units, the British firm is now ready to expand its portfolio by branching into complete home security.
Building on the belief that "few things in life are more important than protecting the people and property you care about," Y-cam's latest product, aptly titled Protect, promises to make smart home security available to a wide range of users irrespective of budget or technical prowess.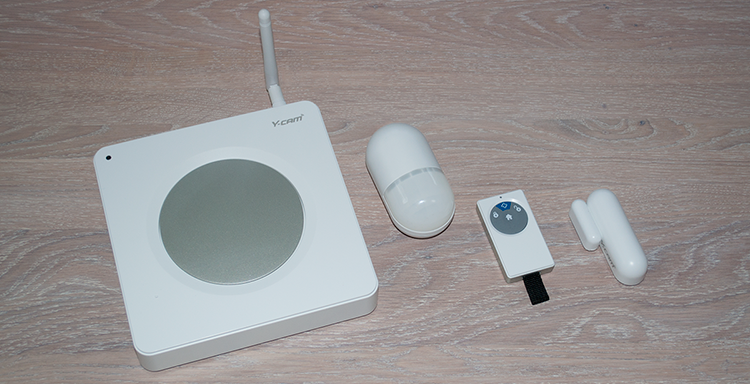 An up-front cost of £150 is indeed competitive for a home alarm system, and in contrast to traditional solutions, there's no need to worry about drilling holes and running large swathes of cable. A simple out-the-box experience is paramount, and Y-cam ticks most of the essentials in a standard bundle comprised of a hub, a motion sensor, an access sensor for use on a door or window, and a single remote control.
Simple, Smart Security
Everything needed to get up and running is included in the box, but larger homes or offices will require greater coverage and Protect is thankfully expandable. Users are free to add up to 32 sensors in total, with additional motion and access sensors priced at £25 and £20, respectively.
Web connectivity is of course a key selling point, so what exactly makes Protect a 'smart' home security solution? It's the hub that serves as the star of the show, courtesy of an Ethernet jack, a built-in SIM card and an internal battery. The latter claims to keep the system operational for up to eight hours in the event of a power outage, while the former allows Internet access to provide app-based system control and instant alerts.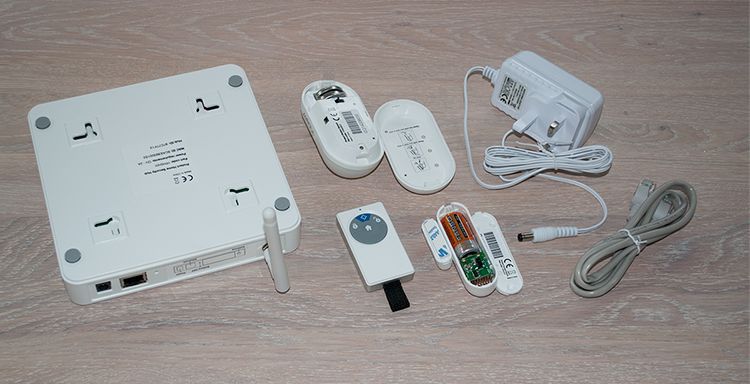 What if the Internet goes out? That's where the SIM card comes into play. Serving as a backup to your home/office broadband connection, Y-cam has a roaming agreement with O2, Vodafone and EE to help ensure coverage for just about anyone. However, the SIM service isn't free and only applies if you take up a Y-cam Plus subscription priced at £5.99 per month or £59.99 per year. In addition to SIM backup, Y-cam Plus also offers text and phone-call notifications, 30-day storage for owners of Y-cam security cameras and an extended three-year warranty with instant replacements in the first 12 months.
The additional services may be deemed good value for consumers whose property is vacant for long spells, or where broadband dropouts are a common occurrence, but for the average user the optional subscription isn't essential.
There's An App For That
Getting up and running is easy enough - attach the power plug and Ethernet cable to the hub and you're essentially good to go. The one obvious proviso is that the 157mm x 157mm x 30mm hub will need to be located near your router for Internet access as there's no built-in Wi-Fi. Once powered on, install the Y-cam app on an Android or iOS device and follow the on-screen wizard to complete installation. And yes, like just about every modern smart device, a smartphone is considered a requirement - Protect can't be setup or configured via a PC.
The iOS app located our hub immediately, and it's handy that a single app covers all Y-cam products, meaning existing security camera owners can add Protect without needing additional software. The app's layout is logical and easy to navigate, though there are two areas in which the Protect could be made more user friendly. During the initial setup, each sensor or remote needs to be paired to the hub manually by entering an ID code printed inside each accessory. It's not exactly hard work, but it would make sense for the supplied accessories to be pre-paired to the hub.
Secondly, and what's more likely to be a long-term concern, is that the whole system requires a fair few batteries. The remote is powered by a 3V CR2450, the motion sensor requires a further two CR2450s, while the access sensor employs a single CR123A. These aren't batteries most users are likely to have lying around, and Y-cam lists battery life as "up to one year," so be prepared to have to re-power the accessories on an annual basis.
On the plus side, the sensors are attached using 3M sticky tape, making them easy to position and remove, and the reasonably discrete 86mm x 45mm x 36mm motion sensor offers coverage of up to 12 metres at a 90º angle. The access sensor, meanwhile, measures 70mm x 21mm x 20mm and works in unison with a small 35mm x 10mm x 13mm contact point, and all sensors are designed with built-in tamper protection.