Intro & specs
Three-CCD semi-professional HDV camcorder, £2,399

The most important camcorder you'll read about this year, Sony's HDR-FX1, looks almost as good as the shots it takes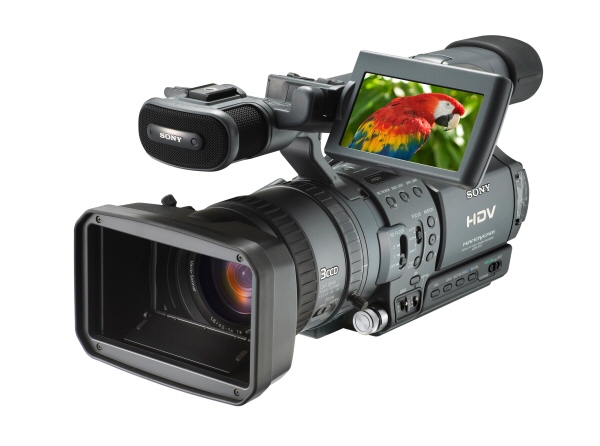 Features
3 x 1/3in CCD with 1.12 Mpixels (1.07 Mpixels effective); HDV 1,080i recording (1,440 x 1,080 at 50 interlaced fields per second); DV recording; 16:9 DV recording; 16-bit and 12-bit PCM audio recording; f/1.6-2.8 lens with 12x optical zoom (4.5 – 54 mm, 35 mm equivalent 32.5 – 390 mm); optical image stabiliser and full-range autofocus; DV in/out; HDV in/out; S-video in/out; composite AV in/out; component A/V in/out; lens filter diameter, 72mm; 0.3in/252,000-pixel colour LCD viewfinder with dioptre adjuster; 3.5in/251,000-pixel colour LCD fully adjustable view panel.

Controls
Manual focus ring; manual zoom ring; shutter speed steps – 1/3 to 1/10000 sec; manual exposure (f/1.6 - 11); gain control – 0 – 18dB; manual white balance control with two user configurable presets plus daylight and tungsten modes; user-configurable Picture Profile modes; backlight compensation; sharpness setting; colour intensity setting.

Audio
Manual or automatic gain control with automatic limiting; HDV: MPEG-1 Audio Layer 2 (two channel 48KHz/16-bit); DV: two PCM stereo record modes (two-channel 48KHz/16-bit; four-channel 32KHz/12-bit); built-in stereo microphone; 3.5mm stereo audio mini-jack mic input; powered hot-shoe mount; stereo audio mini-jack headphone out.

Sockets
HDV/DV in/out; S-video in/out; component in/out on proprietary connector; mic in; headphone out; LANC.

Supplied software
None

Supplied accessories
IR remote control, battery charger/power supply

Dimensions and weight
151(w) x 181(h) x 365(d)mm
2.1kg with battery, lens cap and tape

Price above from Ask Direct 020 7307 8321; www.askdirect.co.uk
Sony, 08705 111999; Sony.co.uk

Introduction
The Sony HDR-FX1E is going to change the world. For decades, we've become used to seeing global events at a few hundred lines of resolution – unless we're lucky enough to be there in person. It's been a colourful view, but has left a lot to be desired in terms of detail. Now the end is nigh for a format that has been around since the 1950s. High definition has finally arrived in Europe, and Sony's HDR-FX1E is in the vanguard.

As with so many things technological, the USA is already way ahead. JVC has had two HDV models on sale in the States for over a year, the GR-HD1 and JY-HD10, and they're essentially consumer and professional versions of the same camcorder.

But the HD10 hasn't arrived in Europe yet, and when the HD1 was brought over last year, it miraculously transformed itself into the PD1. This kept the novel single-CCD approach and progressive scanning, but had somehow managed to lose the 720-line HD mode that was the whole point of the camcorder in the first place.

So, Sony's FX1E is the first semi-professional Pal HD camcorder to hit these shores. And, it doesn't just offer the minor jump to 720 lines of JVC's first models. Instead, it leaps to the top, using the highest resolution afforded by the new HDV format – 1,080 lines. That's nearly twice as many lines as standard definition (SD) Pal, and representing a pixel resolution nearly four times as great as Pal's.