Software test-drive

For software testing, we used a Windows x64 Edition system. Compro's driver packages support 32-bit and 64-bit versions of Windows XP and Windows Vista.
In past HEXUS reviews we've used version 2 of ComproDTV. Version 3 has been released now, so is it any different?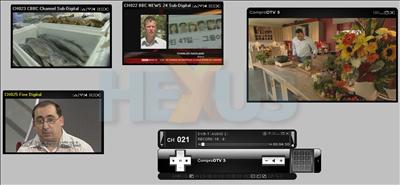 Not really. Compro's made the interface a little sleeker by hiding some of the more advanced menus, but the underlying technology (and settings menus) are the same.
The software took a little getting used to, particularly when it came to using the more advanced features. Some of the menu components are hidden at first, and it wasn't clear to us how to make them visible.
A bit of mouse-hovering soon revealed the answer - click the bottom and top extremes of the control window to make the extra bits pop up.
As the above screenshot hints, it's possible to view multiple channels simultaneously with ComproDTV. In fact, even with just one tuner, the software can show several channels, provided they're all multiplexed into the same transport stream.
The second tuner adds yet another channel, and the freedom to view a second multiplex.
There is a limit to how many you can view of course, which is down to the number of tuners, the number of channels on a multiplex, and the CPU power of the host system. The latter is only likely to be an issue with HDTV streams for systems above 2GHz.
All the usual features are there, including time-shifting, and the rather neat "channel surf" that produces a grid that rotates around channels so you can choose the most interesting looking one.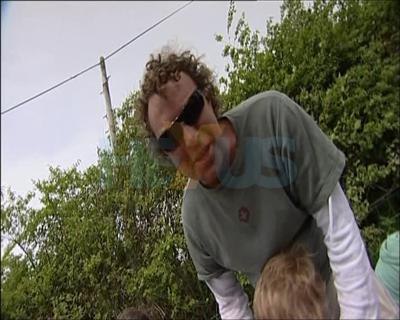 ComproDTV has a screenshot feature. We used it to capture the above TV frame. Click it to get a full PAL resolution version.
You'll notice that the image above looks a little stretched. That's because it's captured without being re-proportioned into a 16:9 aspect ratio. This isn't a problem during playback, because you can specify the ratio you want.
Below is a second version of the image that we've re-scaled into 16:9 by keeping it 720 pixels wide by reducing the height to 405 pixels.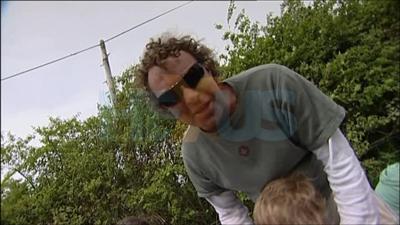 It's hard to comment on playback quality from a still image of a bloke wearing shades, in part because broadcasts are interlaced and also because the shades aren't particularly stylish. To us, the quality was on par with all other Freeview tuners/software we've used.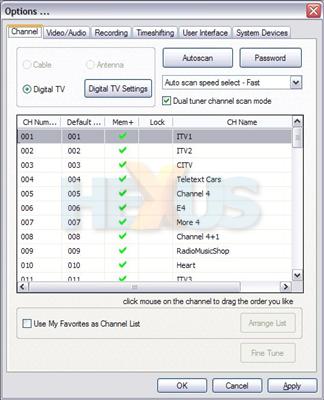 On the setup-side of things, getting up and running is easy. ComproDTV3 will prompt you to scan for channels if it doesn't have any already stored. Scanning takes a couple of minutes with the E700.
But rather annoyingly, ComproDTV stores the channels in the order it finds them. In the Mendip transmission area where our tests were carried out, that means that the multiplex with ITV channels comes first, relegating BBC1 to channel 21.
We'd greatly prefer it if Compro's software read the channel number data from the multiplexes during a channel scan. Reorganising tens of channels manually just isn't fun.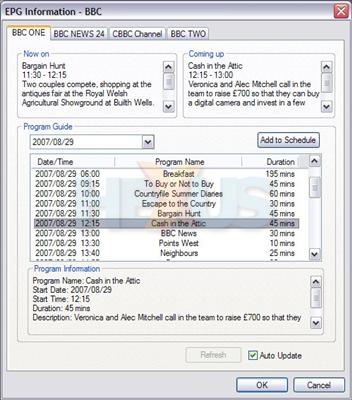 ComproDTV3 populates its electronic programme guide (EPG) by grabbing programme data embedded in the transmitted multiplexes (a system known as Event Information Table - EIT). Unfortunately, the Compro software only looks at EIT data for the multiplex you're currently viewing.
So, if for example, you're watching BBC1, you'll only get schedule data for channels on that multiplex (BBC1, BBC2, News 24 and CBBC during the day for this writer). Some multiplexes host more channels but, again, it's annoying that ComproDTV doesn't store the data.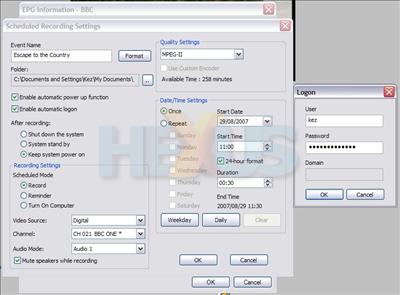 Scheduling programmes for recording is easy, even if the interface is rather clunky. You can set the scheduler to wake up the system from powered off and even auto-login.
We tried out this feature out and, although it was able to turn on the PC 5 minutes before a recording was due, it didn't auto-login, so we had to do it manually. It seems auto-login doesn't work if, like us, you log in using the Ctrl-Alt-Delete screen.
This, again, is annoying if you want scheduling to work properly.
ComproDTV3 allows recording of a channel, a whole transport stream and to DVD. But you'll have to install the bundled Ulead MovieFactory 4 SE before recording to DVD will work. And MovieFactory 4 SE adds itself to the system tray without asking. Guess what? That annoys us, too.
But, at least with the dual-tuner E700, you can record one thing while watching another, or record two channels simultaneously.
Software thoughts
Scan this page for use of the word "annoying" and you'll see it a number of times. That doesn't bode well for Compro.
The software is quite usable, but it just isn't polished enough to be used regularly. The remote control is designed to work best with ComproDTV, of course, which means that it too loses some of its worth if you want to use alternative software.
And we would never use the bundled TV software anyway. For us, it's all about Windows Media Centre Edition or some other (preferably free) PVR software.
But having used ComproDTV to test the E700, we know that it works just fine.