Introduction



Day-tripper John Hill climbs into his automobile, his baby beside him at the wheel, to check out five FM transmitters for use with iPods and other music players



If you want to play an iPod through your in-car audio system, you have three choices. One is to buy an in-car entertainment system with a suitable input. The next is to use a cassette adaptor that plugs into the iPod - assuming the car has a cassette player. The last is to buy an FM transmitter.

These FM devices transmit the output from an iPod stereo on a radio frequency of your choice and this is picked up by the in-car radio. Some work only with iPods, others work with any portable music player that has a headphone socket.

You tune the in-car radio to an empty frequency or one that is very weak in your area (you might have spotted the gotcha already) and then set the FM transmitter to broadcast on that same frequency. In effect, your portable music player becomes another radio station.

It was only late last year that FM transmitters finally became legal to use in the UK. Now that manufacturers have had the chance to sort out their products so that they conform to the new regs, we thought it time to look at a bunch of transmitters to compare their merits.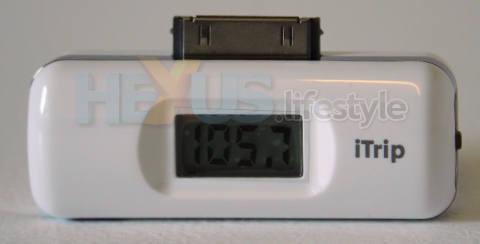 Griffin was one of the very first to offer an FM

transmitter for iPods,
turning iTrip almost into a generic name, like Hoover (click for larger image)



Although some models are designed to use only with iPods, FM transmitters fall into two further sub-categories. One type can only be used in the car – or any vehicle with a cigarette lighter. The other can be used anywhere there's a radio.

Most people will probably buy for the car (their own or a hire car) but there are many additional uses for transmitters that can also work outside of a car.

They can, for instance, be very successfully used as multi-room music sources at home or for listening to music in hotel rooms or holiday accommodation where there's a radio.

For those with a warped sense of humour, they also offer bags of potential for sabotaging radio-based PA broadcasts – putting an end, for instance, to those awful radio programmes about the history of Welsh cutlery that seem always to be on in hospital waiting rooms.

The five models we reviewed were tested in four different vehicles, including soft-tops, and under a wide variety of travel conditions. These took in short city-dashes, long cross-country journeys and a train ride under the English Channel followed by a lengthy drive around France.

Before we start getting hands on, let's consider some general observations about FM transmitters...