Performance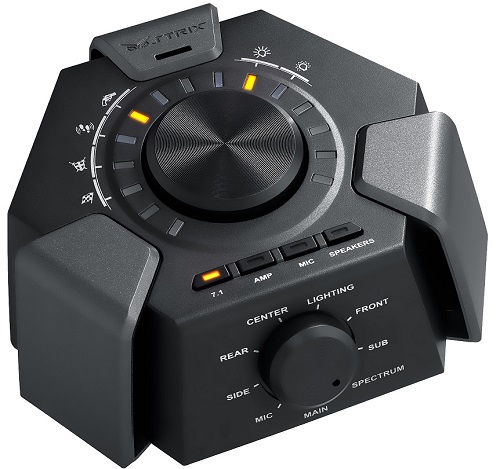 The listening experience for the ASUS Strix 7.1 is mediated through the USB audio station. The first interesting note is that the headset connects to the audio HDMI connection which is a unique design choice. The same USB station can also receive a speaker input, and ASUS provides a converter cable for directing standard analogue audio jacks into the input HDMI interface. The USB station is powered, unsurprisingly, over USB and ASUS includes a dual-connector cable in the instance that a single USB port cannot deliver enough power.
The audio station is versatile in that it can control so many different settings by using a driverless plug-and-play installation. The Strix 7.1 provides hardware-level control between stereo and 7.1-channel operation. This is ideal for music and other audio media where multi-channel playback can distort or muddy the overall sound profile, something that is particularly problematic on virtual-surround headsets.
Gaming customisation
Further extending functionality for gamers, ASUS implements a headphone amplification system which dramatically increases the volume, though 70~80 per cent without amplification will be enough for most users' needs. Given that gaming is the forte of the Strix 7.1 the four different audio spectrum profiles are a fitting addition. The headset provides FPS gunfire enhancer, FPS footstep enhancer, action/RPG and racing audio profiles.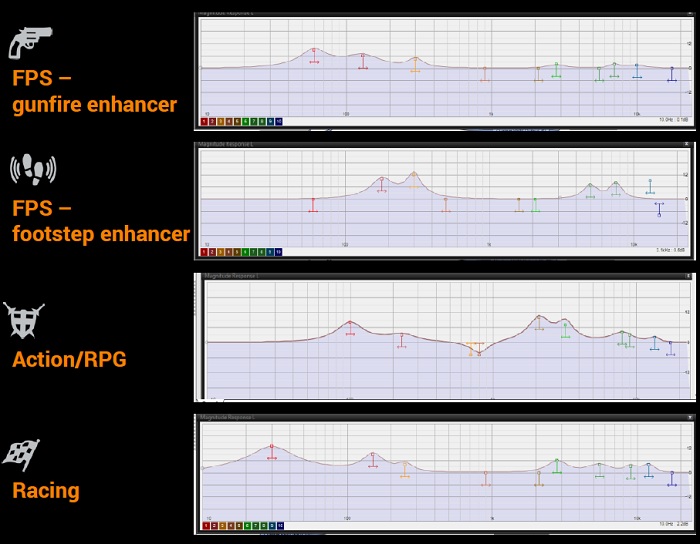 The FPS footstep enhancer mode brings out enemy footsteps through increased echo and a slight toning down of the low-frequency range that caters for explosions and gunfire which can drown out those footsteps. The FPS gunfire enhancer uses an almost reverse logic to the footstep enhancer, focusing on those deep bass frequencies that have additional impact to explosions and gun-fire. This mode offers less of a tactical advantage instead focusing on the immersion of the gameplay experience.
The gunfire enhancer profiles adds additional depth to FPS titles like the recent Battlefield Hardline open beta, although the footstep enhancer is a little redundant in explosion-heavy multiplayer games. The footstep enhancer is likely aimed towards tactical FPS titles such as the Counter Strike series.
Action/RPG profile, meanwhile, enhances the upper-mids and highs for more vibrant vocals and fight-scenes. ASUS lauds this mode for magic-themed games centred around various forms of combat; Skyrim is the obvious example. The final spectrum profile, racing mode, is heavily weighted towards the low-frequency spectrum which facilitates more thump from engine sounds and vehicle collisions. This is complemented by a slight boost in the high frequencies to simultaneously bring out tire-screeching and those typical whizzing noises you'd expect when playing racing games like Grid Autosport, F1 2014 or the soon-to-be-released Project Cars.
Sound quality and microphone
The experience in various media formats isn't too dissimilar to gaming. While the audio profiles may be specifically geared towards gamers they are equally as applicable to movies which mirror a similar theme. Alternatively, for users who prefer a balanced audio experience, you can choose to disable all EQ-enhancements and go with stock 2.1- or 7.1-channel audio. ASUS understands that gamers aren't always gaming and, resultantly, they want a versatile headset for different use cases.
With its default audio profile the Strix 7.1 stands up well to other premium headsets; it has a balanced and detailed listening experience. These aren't audiophile-quality headphones but, by gaming headset standards, the Strix 7.1 is able to better handle the entire frequency range without heavy distortions towards a particular part of the frequency spectrum. In that sense the Strix 7.1 is closer to the Kingston HyperX Cloud rather than the Razer Tiamat which is let-down by a weak and muffled stereo mode.
The microphone is the last crucial element to be examined further. The detachable microphones on most gaming headsets are normally a weak point with the design implementation feeling lacklustre and with suspect quality. With the Strix 7.1 the detachable microphone fits in well with the overall design of the product and is flexible but still maintains the user-set position - other flexible microphones simply bend back over time.
Recording quality with the microphone is well-tailored for gaming scenarios with a second microphone built into the USB audio station which detects background environmental noise - mechanical keyboards, mouse clicks, loud fans... - for noise cancellation. In our testing we found the performance to be solid in VOIP applications, ideal for chatting with friends or streaming, although serious broadcasters will likely make use of dedicated recording hardware to pick up additional detail and warmth. Due to the driverless installation there are few tweaking options for the microphone other than recording volume.