Introduction
Ever been on a flight where someone is wearing a set of Bose noise-cancelling headphones? If so, you've probably witnessed the look of serenity on their face while you shuffle uncomfortably in your seat, wondering whether or not the airline-provided headset will do anything to drown out the baby crying in the aisle ahead.
Well, we've good news. If it's the price that's been putting you off buying a pair of Bose QuietComforts of your own, there's a noteworthy alternative that costs less and is every bit as good, if not better.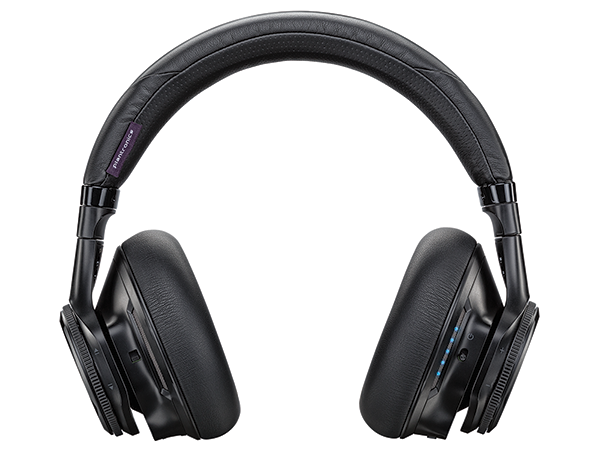 They're the Plantronics BackBeat Pro and, having launched last year with a lofty £250 MSRP, have recently been available for under £155. At that price, the headphones can be considered something of a steal, and for gadget freaks in the market for a headset suited to multiple usage scenarios, BackBeat Pro has plenty of tricks up its sleeves.
Wireless? Check. Wired? Check. Long battery life? Check. Active noise cancellation? Check. Built-in microphones? Check. Automatic play/pause when you put on or remove the headphones? Check. Free extra legroom whenever you travel? Not quite, but there's still a lot on offer, so let's dig in.
Sex Appeal and Comfort
Headphones are big business in today's world, and in a somewhat odd turn of events, aesthetics and presentation have become as important as sound quality, if not more so. Celebrity endorsements and a young target audience are to blame, and for better or for worse, Plantronics hasn't quite got the message.
Whereas your Beats or Monsters are designed to look the part on rap stars and regular users alike, the BackBeat Pro are noticeably more staid in appearance and come across as decidedly business-like. Some might actually prefer this approach, but alongside many of the sexier headsets available today, Plantronics' cans aren't anywhere near as fashionable.
Still, what the BackBeat Pro lacks in sex appeal it makes up for in comfort and build quality. Every part of the over-the ear design feels well put together, from the adjustable faux-leather headband to the cushioned ear pads, which fold flat to allow the headphones to rest comfortably when dangled around the neck.
Weighing in at 340g, the Pros are a little on the heavy side, though that doesn't make them any less wearable: we've worn the headphones for a good number of hours with no discomfort and have even slept with them on. Our only complaint, and this applies to most closed-ear designs, is that your ears do become hot and bothered after a while.
Feature Packed
The array of gizmos available to the BackBeat Pro suggests that you'd need a manual to figure it out. Fortunately, that isn't the case. In its most basic mode, the headset can be used as a simple pair of powerless wired headphones.
A detachable 3.5mm audio cable is included in the bundle - alongside a nice nylon travel sleeve and USB charging cable - and hooks up to the bottom of the left ear cup. Simple enough, but there is one downside to using the BackBeat Pro as a powered-off, wired solution: many of the available functions are rendered obsolete, including the noise cancelling.
In order to make the most of the headphones, you'll want to turn them on and hook up to a compatible device via Bluetooth 4.0. The wireless connection is quick to establish, up to two devices can be connected simultaneously, and Plantronics has also squeezed in NFC capabilities to take the guesswork out of the initial pairing.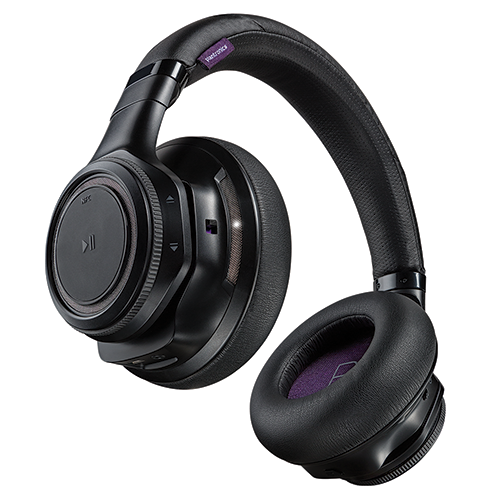 When in wireless mode, a number of easy-to-use features become available. On the left ear cup, a spring-loaded dial can be used to skip back/forth between tracks, a large outer button controls play/pause, and a small ANC (Active Noise Cancellation) toggle switch is positioned on the side. A USB connection is also available to recharge the headset - it takes up to three hours to fully charge - and five-stage LED indicators provide at-a-glance battery status information.
On the right ear cup, the large dial controls volume, the outer button answers or ends calls (hold it for two seconds to reject), and there's a nifty 'open mic' button that lets you hear your surroundings while wearing the headphones. Microphone sensitivity in open mic mode can be increased or decreased using the volume dial and the system works well - it's particularly nifty when ordering your in-flight meal. The only caveat is that the controls only work via Bluetooth. Try to skip track when using a wired connection and you may wonder why nothing is happening.