Intro

Like a lot of PC system builders hard pressed by competitors who operate on a global scale, Evesham Technology has diversified into consumer electronics as a way of bringing in additional revenue. We're taking a look today at one of those CE products, a twin-tuner personal video recorder for Freeview digital terrestrial TV that's fitted with a 160GB hard disk and pitched at a VAT-inclusive

£150

.



The UK's switch over from analogue terrestrial TV to digital is schedule to start in 2008, so it's true to say that there's no big hurry, yet, to buy into digital terrestrial.

However, the digital terrestrial TV system is already up and running and the Freeview side of it offers 30-plus channels - many more than analogue terrestrial - along with 25 radio stations. So, it's not to be sniffed at, even now, unless you already have a paid-for satellite or cable subscription that provides all the channels you want and some that digital terrestrial can't provide.


What has to be pointed out, however, is that analogue can deliver a somewhat better picture than digital in areas where the signal is strong and not prone to reflections that cause ghosting.

That's not to say that terrestrial digital's picture quality is poor - we reckon it's noticeably better than standard-definition satellite broadcasts from Sky - but it's not up to the standard that analogue can provide under the best circumstances.

Also, like all TV or radio systems that transmit digital info, reception is all or nothing. So, when signals are too weak, you get nothing, rather than degraded picture and sound as with analogue.

Where we tested in north-east London, though, there's a strong signal from the Crystal Palace transmitter in south London but it's reflected all over the place by the buildings in between at Canary Wharf. As a result, analogue reception here suffers from multiple ghosting that makes some channels close to unwatchable and ruins teletext on all of them.

With Freeview, though, whether we've used PC tuners or set-top boxes, no ghosting or signal degredation of any sort has been visible if the feed has been coming from a decent loft aerial - and this is exactly the same aerial that's feeding analogue to our TV set and producing ghost-ridden results.

If you have similar analogue reception problems or just fancy the idea of all those extra channels - and assuming your TV set has a video input (Scart or phono) - it's perfectly possible right now to enjoy Freeview at pocket-money prices.

A whole range of cheap Freeview receiver boxes is available and on sale even in supermarkets, starting at under thirty quid.

Take care, though, if you're using communal aerial systems in flats, even if the signal is good (though often it's not). Freeview recommends that, before buying a digital box, you ask the landlord whether the system has been upgraded to receive digital television, presumably because there's no certainty that the signal will be suitable (doubly so if it's not very strong).

However, if you have a strong signal coming from your own aerial on the roof or in the loft - even one that causes ghosting on analogue - that should be okay for Freeview, assuming you are in a part of the country with Freeview reception. Coverage of digital broadcasts isn't nationwide - it's around 75 per cent - so you still need to use Freeview's postcode checker to see if you'll get reception.

Assuming you're in the majority and do live in a Freeview reception area and also have a strong (even if ghost-ridden) signal, what should you do? Well, in our view, a cheapo box might be the best way of testing the water - especially if you buy from an outlet with a money-back satisfaction guarantee, such as Tesco and others offer.

But it isn't the best way to enjoy Freeview.

With all those extra channels, there an increased likelihood of scheduling clashes, where two programmes that you want to watch are being broadcast at the same time and there's no way round the problem using a £30 box.

Okay, that's not strictly true. You won't miss out if you still have a VCR and each of the clashing programmes is being broadcast not just on Freeview but also on analogue terrestrial - you can record one and watch the other. But that's only going to be the case with five out of the current 32 free TV channels.

So how do you deal with a conflict between broadcasts being shown only on the new digital channels? Well, what you need then is a Freeview personal video recorder (PVR) with two tuners (the norm, fortunately), one for watching and one for recording.

And such a product can largely make your VCR redundant, thanks to its built-in hard disk.

This, finally, brings us round to the product we're reviewing, Evesham's PVR160 - a twin-tuner PVR that sits towards the lower end of the available price range and is just the sort of kit that, on paper, is needed to get the most out of Freeview.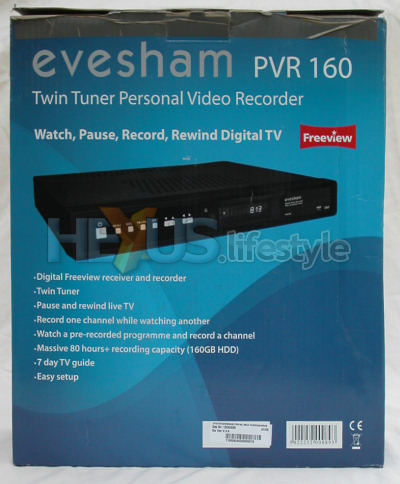 To start finding out what specific features and benefits it offers, turn to page two...