Specification
First things first, here's the H900's specification table:
Video
Supported video formats
NTSC, PAL, SECAM
Video controller
All-in-One Conexant CX23418 10-bits hardware MPEG-2 encoder with
3D adaptive comb filter for NTSC and video/audio broadcasting decoder.
3D Y/C separation
Supports NTSC video signal 3D Y/C separation
Resolutions
720*480(full D1) / 640*480 / 640*288 / 640*240 / 352*480(Half D1) /
352*288 / 352*240(SIF) / 320*240 / 240*180 / 240*176 / 176*144 / 160*120
Video compression
ISO/IEC 13818-2 (MPEG-2)
ISO/IEC 11172-2 (MPEG-1)
Audio
Stereo format
North America and Taiwan (BTSC and SAP) Japan (EIAJ)
Europe (NICAM and A2/Dual-FM) FM(stereo) radio
Audio ADCs
16-bit ADC converter
Sample rates
32KHz / 44.1KHz / 48KHz
I/O
External
TV cable/antenna input
FM Radio Input
9-pin Mini-DIN Connector (S-video, Composite video input,
Stereo audio input/output )
IR input
Internal
Power switch connector (2-pin x 2, white )
enable/disable power up jumper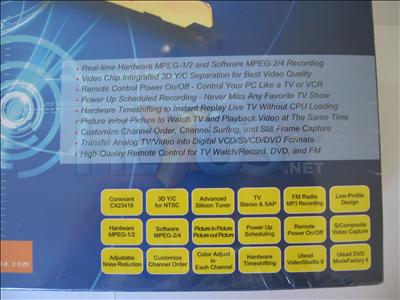 A digital television broadcast is already in the form of a digital video stream when it hits your aerial. However, unsurprisingly, an analogue signal isn't, so the analogue signal must be decoded and then encoded into a digital stream for the PC to make use of. The encoding can be done in software, but in the case of the Compro H900, the on-board Conexant chip deals with turning the analogue signal into a digital MPEG-2 stream, saving the CPU the hassle.
The usability of an analogue TV tuner is at risk due to the analogue broadcast turn-off in a few years' time. That said, a few years in PC terms is a lifetime, so the two real limiting factors on such a TV tuner are image quality and channel choice, really.
Still, cast your eyes towards the bottom of the spec. table and you'll see internal connections for the 'power switch'. Interesting, eh? We'll get to those shortly.