Intro & free seminars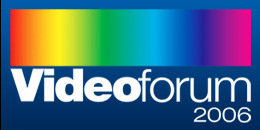 London's Earls Court 2 plays host next week (Feb 7-9/Tues-Thurs) to VideoForum 2006 - the leading UK show for serious amateur camcorders users, video editors and DVD authors, and also an important diary-date for professionals.

The free-to-attend event, now in its 15th year, is said to offer 140 free seminars, along with exhibits and demos from around 130 companies. Included are big names such as Adobe, AMD (but not Intel), Apple, Avid (Pinnacle's new parent), Canopus (now owned by Thomson), Canon Broadcast, Ikegami, Matrox and Sony Broadcast.

Although Panasonic and its sister company JVC will be conspicuous by their absence, we're expecting a lot of visitors to get excited about Panasonic's miniature HD camcorder, the AG-HVX200, being shown by Top-Teks' and, perhaps, on one other stand.

Naturally, there will be talks and demonstrations on the stands of dedicated builders of editing and authoring systems, notably Red Submarine and long-time VideoForum-stalwart and all-round good-eggs DVC (Digital Video Computing). Also watch out for system-builder and component-seller Scan Computers. Yes, that HEXUS-highly-trusted Scan - the company is at VideoForum for the first time, showing off the latest editing systems in its 3XS range.

Across the show, you'll be able to see all the latest and greatest, whether it's camcorders, lighting and sound equipment, editing and effects hardware, software and systems, production tools and everything necessary for DVD authoring and replication. There's even an area of the show - called i-deliver - dedicated to the distribution of rich media over networks of every kind. And, running alongside, will be another event, TV Tech, claimed to be THE technical event for post-production and television in the UK.

HDV camcorders - notably the Sony Z1 and Matteo Ricchetti's interchangeable-lens modded FX-1 - were the stars of last year's VideoForum and HDV features large this year in many of the seminars - as does HD generally and the forthcoming introduction of HD TV transmissions.

Talks we'd especially look out for include

HD for filmmaking

(Tues, 12:20) by Talent Circle & The London Film Academy; DVC's

HDV editing on the PC

(Tues, 15.20), expect no punches to be pulled;

Compression A-Z

(Wed,11:20) by Martin Uren of BKSTS; and The HDV 1080i Masterclass (13.20, Tues & Thurs) by Sony's Neil Thompson Sony. Although it's on a rather different topic, we're sure it will be worth catching the

Running a multicam-shoot

(10:20, Thurs) talk given by ex-Beeb man and DVdoctor-associate Ray Liffen of Intec Services.

Apple won't be having its own stand - it seldom if ever exhibits at shows that don't have Apple and Expo in the name - but will be running a whole series of up-market demos in its own theatre area at VideoForum where the emphasis will be on Final Cut Studio.
There will be a twice-daily, hour-long talk about Final Cut Studio; and others of the same duration on HD grading with FCP and Final Touch, and Xsan shared storage and collaborative work groups. Mid-way through each day, there's a half-hour session on native Codec support and HD workflow in Final Cut Studio. And each day's talks kick off with a similar-length session on Showreel while the first two days end on the same note - early closing on Thursday means that the last two sessions of the afternoon are dropped.

This is just a taster of the range of free seminars, so make sure to check out the full list.