Card and package
With a little help from Creative and Scan, we were sent a Sound Blaster X-Fi Elite Pro, top dog in the X-Fi range and pitched around £250. Other versions are closer to £100 and take in the Platinum, intended for entertainment; the Fatal1ty FPS for gaming (who'd have thought it?); and the Xtreme Music, intended for, well, try to guess. Specs for the X-Fi line-up can be found here on the Sound Blaster site; with system requirements here. Do check out the requirements before buying – they're not ridiculous but they're not trivial either. Included are Windows XP with SP2; 256MB Ram; 600MB of free hard disk space for the install; and a graphics card compatible with DirectX 9 and OpenGL and carrying at least 32MB of "texture RAM".
Let's take a look at the contents of the Elite Pro package.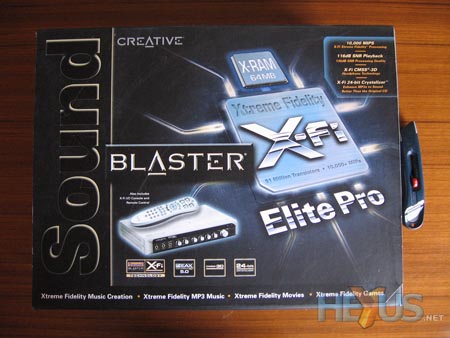 To the right of the box is a Stanley knife, giving you an idea of its size. Yep, it's a big one, begging the question "what on earth has Creative put in there?"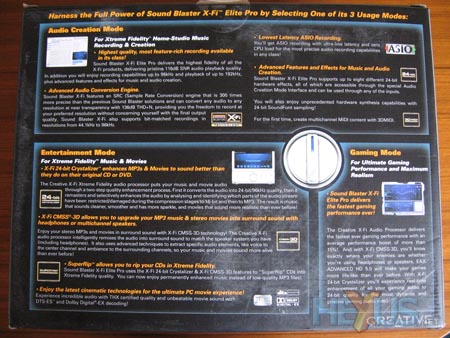 The back of the box carries plenty of bold claims and also explains the three available operating modes – Entertainment; Game; Audio Creation. Change the mode and the card optimises itself for that mode while the software is restructured to better perform the tasks you're likely to choose. Yet more marketing material is found on a flap that folds out on the front of a box, including products you might like to buy to go with your new X-Fi.
Once we'd opened the box, we were met with three more boxes. Getting our priorities right, here's what's in the smallest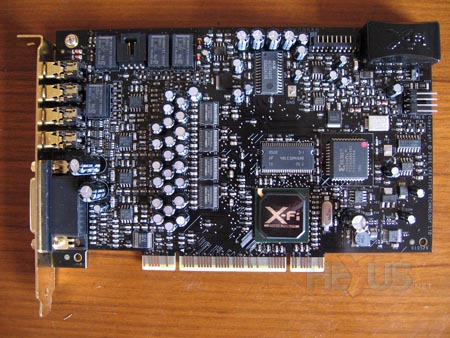 The sound card is quite busy. Clearly visible towards the bottom is the X-Fi processor. Above that is 64MB of "X-RAM" into which audio samples can be loaded rather than system RAM. Near the top left is an analogue CD audio connection, surrounded by five-volt relays that click into action depending on what mode the card is in and what devices are connected. Top right is a small black box with an X-Fi logo which glows blue when turned on. Below that is the power connector.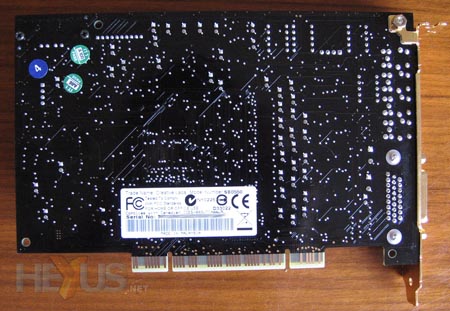 Very little happening on the underside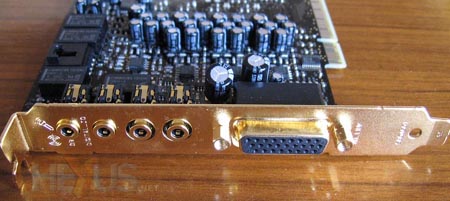 The card's securing bracket has four 3.5mm jacks and a socket for an AD-Link cable that connects to...
…well you'll see in a minute when we get on to the connections and the software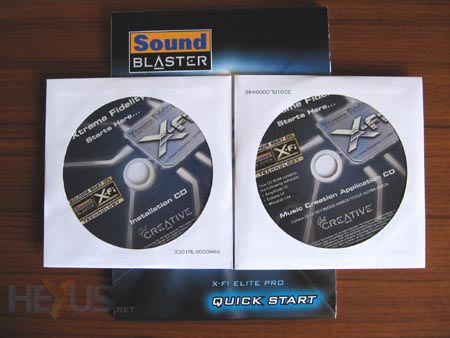 A helpful foldout quick start guide is included, along with two CDs – one for drivers, the other for music-creation applications. These consist of Amplitude LE, Cubase SE and Wavelab Lite - all cut down versions but quite useable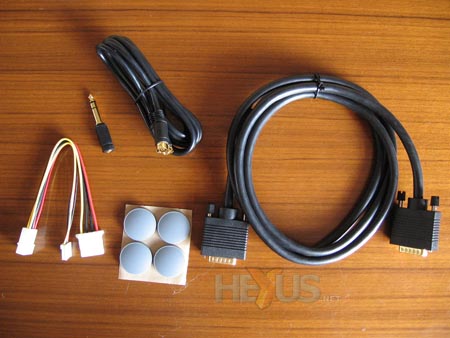 The multi-coloured cable is a Y-splitter that brings in additional power – the X-Fi needs more juice than the PCI bus can provide. The likkle black and gold jobbie is an adaptor, allowing a 3.5mm lead to be plugged into a quarter-inch socket. The small black cable is a 9-pin DIN lead for volume control; the chunky one is the AD-Link cable. Oh, and there are four self-adhesive rubber feet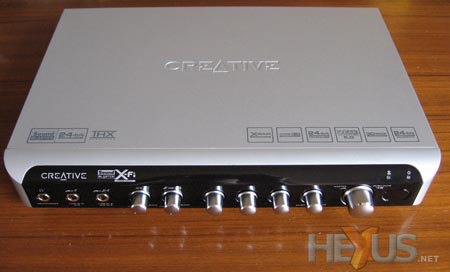 Here we have the Elite Pro's control and in/out console. Two other X-Fi models have consoles that fit into 5.25in drive bays, the other has none at all. At roughly 32cm wide and 22cm deep, the box will sit where ever there's room, looking big and clever. If space is a problem, the box can stand on end in the supplied cradle and still look big and clever.

Round the back, and starting on the left, we have a grounding pole to earth the box and avoid mains hum. Next is a slider. This switches the usage of the L/R phono sockets at its right. One position is for a record turntable (phono) – fancy having all your vinyl discs as CDs or MP3s? - the other is for Aux at standard input levels. Then there's the socket for the volume-control cable, followed by Midi in/out, optical in/out and SPDIF in/out. At far right is the AD-Link socket through which the console receives power and audio signals and can transmit back control data.

At the front are more sockets – for headphone, line-in 3/hi-z input and line-in 2/mic in 2. Next are control knobs for those two input jacks, followed by the 3DMidi knob – for creating multi-channel effects from Midi music. The knob alongside allows various EAX modes to be chosen, depending on the mode the card is set to. The remaining two small knobs control perhaps the most useful features - CMSS-3D and 24-bit Crystallizer. CMSS-3D enables stereo up-mixing, sound expansion and increased 3D virtualisation. The 24-bit Crystallizer is supposed to enhance 16-bit audio to 24-bit/96KHz quality. Creative claims you can play back an MP3 at a quality "better than the original CD". More on that shortly. Finally, there's the big volume knob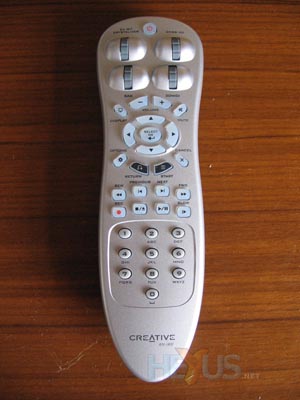 Oh yes, there's an IR remote control, too, completing the entertainment aspect of the package; sit back and control your new home theatre system.
Initial thoughts on the bundle are that some more software would have been welcome. This package is claimed to incorporate the features and power of all three of the other X-Fi products, so a game that supported EAX 5.0 would have been nice. So, too, would a DVD decoder - a player is included, but you'll need to have installed a decoder, presumably from your DVD drive's software bundle. The hardware itself, though, had this reviewer sat in shock for a brief time. The I/O console has immense fiddling potential. We'll see how useful it actually is soon.