Smaller, sleeker, but better?
Content is king is a message that we've had preached to us for a while now. Super-fast broadband speeds and cavernous hard-drives mean that it's pretty easy for anyone to accumulate an incredible amount of digital content in a short space of time. Heck, filling a 1TB disc with high-def entertainment isn't difficult, right?
Masses of content and varying file formats can make it onerous to organise and watch material on your living-room TV. Dutch media specialist A.C. Ryan hopes that its range of Playon! network media players solve these storage, playback and streaming problems, and in recent months we've been impressed with the Playon!HD and Playon!HD mini and taken a shine to the DVR version, too.
Cutting off the fat
Looking to keep the HD player bases covered, A.C. Ryan recently introduced the Playon!HD Essential, which is ostensibly a shrunken-down version of the regular Playon!HD.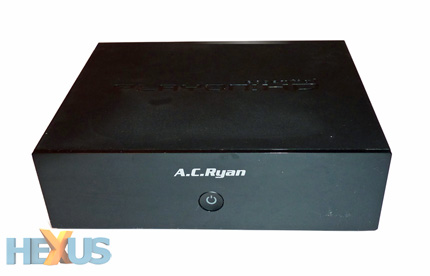 Now measuring in at 180 x 150 x 55mm - slightly larger than the mini - the Essential continues the minimalist styling adopted by the entire Playon! line. A single power button glows blue when juice is provided to the unit and, like previous efforts, it wouldn't look out of place on your TV or AV stand.
A.C. Ryan throws in a rudimentary remote control, three-way composite cables and a power plug, yet it stops short of adding in an HDMI cable to the package, which is rather stingy given the bulk price of 1.8m leads.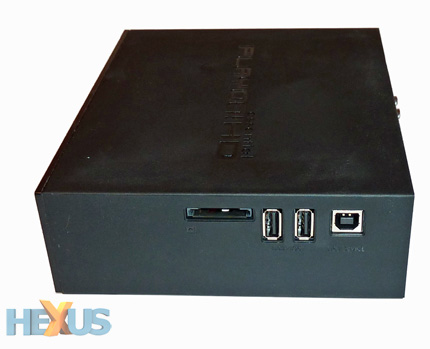 Inputs remain the same as the larger Playon!HD, that is, a 5-in-1 card-reader, two USB ports for attaching external storage, as well as a slave port for connecting to a PC.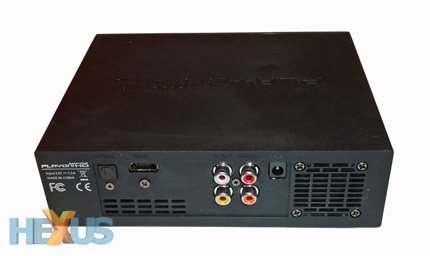 But something has to give in the transition between the two players. The Essential, by its very name, misses out on what A.C. Ryan believes are superfluous connectors for most folk. This means that the Component video gets the chop. Perhaps more worryingly, the 10/100 LAN port isn't present - it's not available with the particular Realtek chip used in the Essential - though the unit can be connected to a wireless network through an optional 300Mbps USB adapter that's to be made available in February. More of a standalone device, the Essential is plumbed with HDMI v1.3, optical-out and composite video.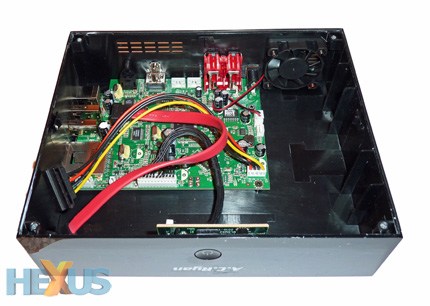 Play till you drop
Inside, the 40mm fan is carried on over from the regular HD model. Alongside, a small PCB houses the Realtek RTD1055DD chip that handles the processing work. The Essential can output to 1080p (24Hz) for smooth playback of practically any type of video or audio. Indeed, take a look at the specs and there's not much to trip it up.
Video Formats Supported:

AVI / MKV / TS / TP / TRP / M2TS / MPG / MP4 / MOV / M4V / VOB / ISO / IFO / DAT / WMV / ASF / RM / RMVB / FLV resolution up to 720p / 1080i / 1080p / BD-ISO

Video Codecs Supported:

MPEG-1 / MPEG-2 / MPEG-4 SP/ASP/AVC (H.264 | x264) / XviD / DivX / WMV9 (VC-1) / RealVideo 8/9/10 (up to 720P)

Video Output Supported:

PAL / NTSC / 480p / 576p / 720p / 1080i 50Hz / 1080i 60Hz / 1080p 50Hz / 1080p 60Hz / 1080p 24FPS

Audio Formats Supported:

MP3 / MP2 / WMA / AAC / FLAC / WAV / OGG Vorbis / PCM / LPCM / MS-ADPCM / LC-AAC / HE-AAC / COOK / RA-Lossless

Audio Output Supported:

Stereo
Dolby Digital AC3 5.1 (passthrough & downmix to stereo)
Dolby Digital Plus (passthrough)
DTS (passthrough & downmix to stereo)
DTS-HD Master Audio (passthrough core stream & downmix to stereo)
DTS-HD High Resolution Audio (passthrough core stream & downmix to stereo)
FLAC 7.1 (passthrough & downmix to stereo)

Image Formats Supported:

JPEG / HD JPEG / BMP / GIF / TIF / PNG

Subtitle Formats Supported:

SRT / SMI / SSA / IDX / SUB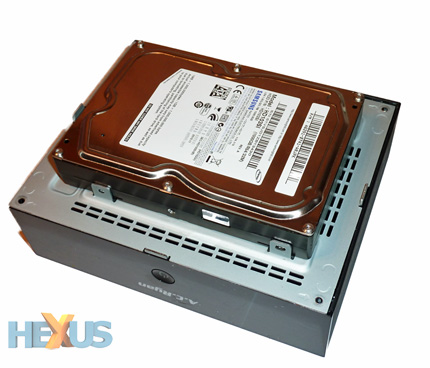 Sensibly, A.C Ryan keeps player-based storage to readily-available, cheap 3.5in SATA drives. Starting at just over £100 for an Essential with a 500GB energy-efficient drive and £125 and £165 for models with 1TB and 2TB drives, respectively, there's something for everyone, though it's a shame that it can't be purchased as a drive-free unit. Comparing models, the reduced feature-set means it's around £30 cheaper, at all capacities, than the full-size Playon!HD unit.