Specifications and Xonar Xense Audio Center
Card specification
Signal-to-noise (A-Weighted): 118dB for Front Channel
Frequency Response: <10hz to 46KHz (-3dB)
Headphone Impedance: Optimised for 32-600 Ohms
Output THD+N at 1KHz (-3dB): 0.00039% (-108dB) for Front Channel
Audio Processor: Asus AV100 (Max 192KHz/24bit)
24-bit DAC: Texas Instruments PCM1796 for Front-Out, Cirrus-Logic CS4362A for other 6 channels
Headphone Amplifier: Texas Instruments TPA6120A2
Bus Connectivity: PCI Express x1
Analogue Playback/Recording Resolution:  Max 192KHz/24bit
S/PDIF Digital Out: Max 192KHz/24bit
Driver Features: Dolby Digital Live, Dolby Headphone, Dolby Virtual Speaker, Dolby Pro-Logic II
Headphones specification
Speaker type: Dynamic, 38mm, Nd magnet
Frequency Response: 10-26,000Hz
Impedance: 150 Ohms
Distortion: less than 0.1%
Microphone Frequency Response: 50-16,000Hz
Microphone Pick-up Pattern: Noise canceling
Microphone Sensitivity: -38dBV at 94dBSPL
You noted the bits in the card specs about the headphone amplifier and optimised impedance, didn't you?
Xonar Xense Audio Center
The control panel is pretty much the same as for other Xonar products - the front panel displays sound levels and applied settings, while this can be 'ejected' upwards to reveal the different options available.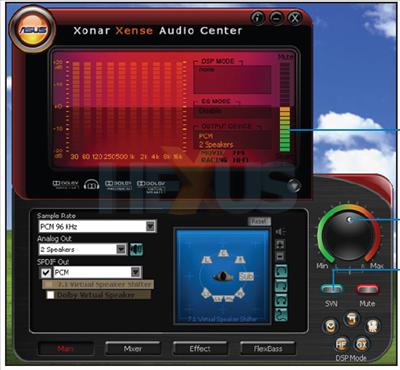 Sample rate can be selected to perfectly match your audio source (audio CDs, MP3s  at 44.1KHz, DVDs at 48KHz etc.) although ASUS claim that the engine is powerful enough to resample  at 'super high fidelity'. The output modes for analogue and digital outs can also be selected. There is the usual range of speaker adjustments and up/down sampling options as well, but the key option here is that when headphones are selected a new impedance setting option becomes available, allowing you to select from three different gain levels depending on the impedance of the attached headphones. Special to this pack is a fourth level which simply says 'Sennheiser Xense' - presumably this sets the gain to be perfectly matched to the headphones' 150 Ohms.
There are additional screens for mixing and sound effects, as well as bass crossover controls. To the right is a main volume knob, a sound level normalisation button and mute button. Below that are some quick setup buttons, which preset the card for effects apparently suited to movies, first-person shooters, racing games and GX mode (emulation of Creative's EAX), along with a hi-fi button which quickly disables all sound effect processing.