The Remote
The Remote
The Harmony 700 is a very sleek and comfortable to hold remote with an ergonomic design that curves at the back where the battery department sits. It's matt black finish is fairly unremarkable but the remote is jazzed up with back-lit buttons and a small coloured LCD screen from where you can switch between your devices and customise your settings, such as storing your favourite TV channels.

The remote is slim and long measuring 224 X 60 X 33mm and it feels quite weighty at 174g. It crams almost 50 buttons onto the slim controller so all bases are covered from the numerical keypad to the multi-coloured fast text buttons and Rewind, Play and Pause function buttons; it's basically got every button that I have on every controller already but presented in one compact space.

Most of the rubber keys are soft and silent when pressed, apart from some of the more commonly used keys such as Volume and the Channel Changer which make a subtle clicking noise. Alongside the help button which sits above the LCD screen you've got a series of maroon coloured buttons that allow you switch between Watching TV, A Movie and Listening to Music without having to press multiple buttons to get there, offering a one-touch button solution to switch between your various media.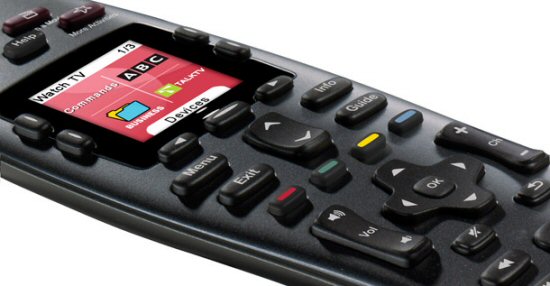 The controller may have benefited from being slightly wider so that the buttons could have been spaced out more and weren't so cluttered together - if you've got big thumbs you might find it slightly awkward accessing the number buttons in particular which are quite small and close together - but it covers all bases in terms of providing all of the buttons you'd want from a controller, and if feels comfortable to hold; plus the LCD screen displays text vividly and the two buttons either side of it, used to navigate through the menus, function extremely well.

Continued overleaf...