Altec Lansing gets a makeover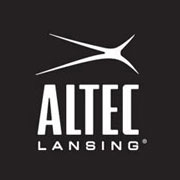 Altec Lansing - a division of Plantronics - has been manufacturing multimedia-audio products for well over 70 years. 2008, though, could be the US-based company's most important year to date as it undertakes a corporate makeover.
The firm's new look begins with an all-new logo (pictured right), and a range of new speakers including the FX3022 Expressionist BASS - an interesting set of speakers that claim to be the industry's first 2.2 desktop solution.
The FX3022, pictured below, features two desktop speakers - each housing a 4in down-firing subwoofer and a 1.5in driver. A combination that Altec Lansing claims provides powerful bass and crystal-clear mids and highs. The idea, in theory, is a clutter-free solution that provides "all the bass in half the space".
In an age in which many consumers demand a clean-and-crisp solution, the idea of a bass-filled minimalist package without the need of an additional subwoofer has plentiful appeal. Altec Lansing's offering, however, will arrive later this month carrying a lofty price-tag of £99.99 - can the Expressionist Bass deliver the required bang-for-buck?
Let's take a closer look...