Overview and contents
So, let's begin by taking a look at the package. The Kama Bay Speaker is available in black, silver and white, so you shouldn't have much difficulty in getting it to match up with your chassis.
We've opted for the silver-solution, and it comes in a simple and small box: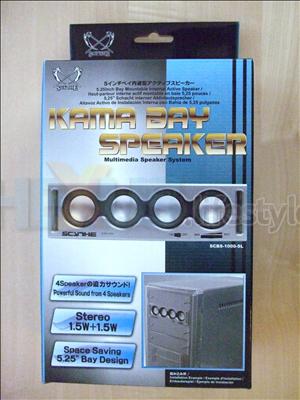 Open up the modest packaging, and you'll find just four items on the inside; the speaker itself, a set of mounting screws, a stereo audio cable, and a PCI bracket.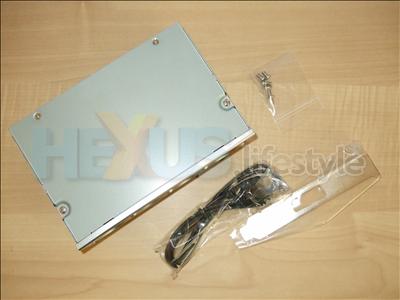 Though the device couldn't be any simpler to install, it's lacking any form of documentation. Information on the two-year warranty can be found on the packaging, but installation and troubleshooting details are nowhere to be seen.
The speaker itself isn't as toy-like as we'd imagined. The four 1.25in concave metal speakers (which pair-up to operate in stereo) give it a miniature boom-box look, and its silver finish adds just a smidgen of sophistication. Unfortunately, there's no attachable grill, which we'd have liked to have seen included. The speaker doesn't look bad, but on the sleeker of chassis', it could look a little out of place and a colour-coded grill could rectify that minor problem.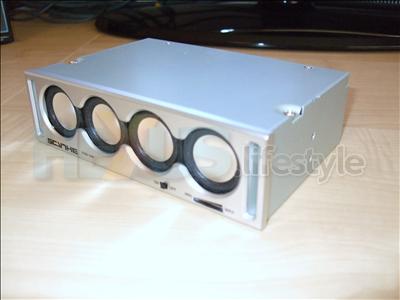 The front panel houses a simple on and off switch and a volume dial. There is, however, no headphone socket, an addition that could have proved useful for some users.
Around the back, it's an even simpler affair. There's a standard molex plug to power the device, and a 3.5mm audio socket.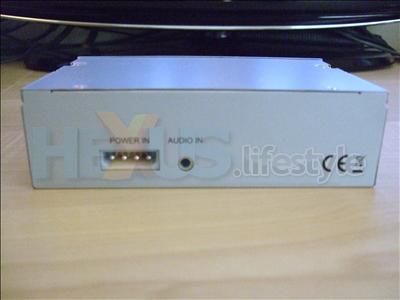 The speaker's official specification, as provided by Scythe, is as follows:
Model Name
Kama Bay 5.25inch Speaker
Model Number
SCBS-1000-BK (Black)
SCBS-1000-SL (Silver)
SCBS-1000-WH (White)
Dimension
148.5 x 100 x 42.5mm (WxDxH)
Output
1.5W + 1.5W (Stereo)
Speaker Type
2 Channel with Built-In Amplifier
Speaker Unit
1.25inch Concave Shape Metal Type
Input Connector
Stereo Mini Plug (3.5mm)
Power Source
DC 12V (4-Pin from PC Power Supply)
Let's put it to the test and see where it could come in handy, shall we?