Intro & overview
Just when we thought that the prosumer video editing world had matured and all the old headaches and teething pains were gone, Sony and JVC stirred the pot once more with their affordable high definition HDV formats.

Canopus reckons it's got the answer to the HDV-editing conundrum, so Peter Wells checked out In-deep's Canopus Edius SP system to see how well it performs.
HDV is undoubtedly the most exciting development in prosumer video since affordable DVD burners first appeared on the scene but, unlike those days, adopting this new technology will almost certainly require an overhaul to your entire infrastructure – not least the editing system. Regardless of how you approach HDV, the format requires a lot of grunt from a computer.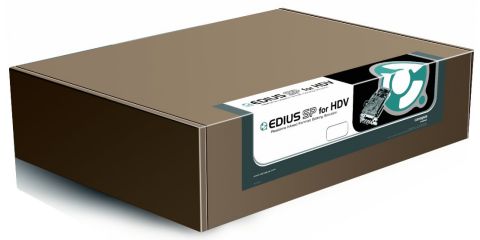 If footage is being cut in its native format, the system and software must work hard to manage the IPB frame structure of its MPEG-2 Codec.

However, if the editor is one that transcodes to an intermediate I-frame format for editing and compositing, there's a new challenge in handling material with a datarate of around 14MBytes per second for 1080i material at 50Hz. And all that's on top of the large frame size of 1440x1080 pixels, as opposed to PAL DV's resolution of 720x576.

Most mainstream editing programs have now been updated to support HDV, including Adobe Premiere Pro, Pinnacle's Liquid Edition, Sony Vegas and Apple's Final Cut Pro and Final Cut Express, but these software-only solutions are riddled with compromises, such as their inability to output HDV straight from the timeline via FireWire for preview on an external monitor.

A year ago, when standard definition DV was king and even the most affordable PC was able to cut it like butter, we thought that editing hardware companies had had their day. Now, it seems, they're being called on to save the day again.

Arguably the most respected champion of the pioneering DV years was Canopus, which brought sensibly-priced and rock-solid tools into the pro arena with DV Rex, and flung doors wide open for more budget-conscious enthusiasts with the now legendary DVRaptor.

And when real-time editing became the fashion, Canopus was at the forefront in performance (although rarely in price). Canopus is now one of the first companies to offer hardware acceleration for HDV editors, with two solutions targeted at the prosumer market.

Edius NX is, in essence, a replacement for the company's hugely successful Storm board. It costs around £800 for the basic standard definition version, and requires an add-on card for HDV support, weighing in at an additional £500.

It has S-video, composite video and unbalanced stereo audio inputs as standard, along with DV I/O via FireWire. Yet another board, costing £95, can be added for component video output. Moving up in price, Edius SP (reviewed here), takes the throne once occupied by DVRex. It costs £2,400, and provides HDV support as standard, along with balanced audio input and outputs, component video in, and HD component output.

Despite the impressive hardware, some very serious grunt is still required from the host system. Canopus's quoted requirements for Edius NX and SP list 3GHz processors as the absolute minimum, and strongly recommend twin Xeon processors.

In addition, would-be users are warned not to proceed without at least a gigabyte of RAM under the hood, and a very big and fast hard drive for moving all the data involved in I-frame (or even uncompressed) HDV footage. The hardware itself is a 64-bit PCI board. And while it can be successfully installed in a 32-bit slot, doing so would lose all HDV editing capabilities.

With all that in mind, the hugely powerful system in which we're reviewing Edius SP – provided by In-deep – starts to make sense.