The news



Today (Dec 18) was announced as the opening day in the UK of

Coolroom

- a new legal download site

for the latest Hollywood movies. What's special about Coolroom is that, unlike other services we know about, downloaded movies will, we're promised, be playable across a home network - not just on the PC that brought them down.



From the launch, Universal Pictures'

Miami Vice

and

The Break Up

should be among the available downloads, with

You Me & Dupree

scheduled for Boxing Day - the same day as the DVD is released.

Coolroom says that, as well as agreements with Universal Pictures and Universal Music Group, it also has deals with V2 Music and that there are "further announcements to follow".

The site has been developed in collaboration with Intel and - according to one interpretation of the information Intel was circulating last week - the service will only be open to users of Intel Viiv PCs.

We don't know if that's true because the site still only shows a holding page and isn't fully live. Is there some technical problem, folks?

But if it is true, then Coolroom must be receiving a

massive

amount of financial support from Intel.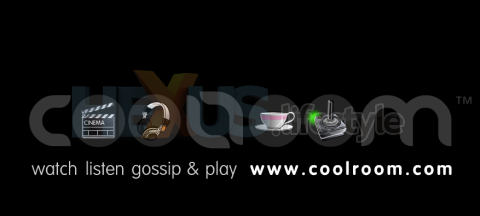 A film-downloads business that forces you to use one highly-specifc flavour of PC - and a very new one at that - isn't likely to draw in hordes of customers nor generate a whole lot of revenue. Such a situation would, we suspect, result in Coolroom getting a very chilly reception.

However, we're expecting that, in fact, the service will be open to all - including users of Mac OS - and that network playability under Windows will require the installation of Windows Media Connect and not need Intel Viiv hardware. When Coolroom itself describes what it offers, it says it is "

content-agnostic

service available

across multiple platforms

" (our emboldening - Ed).

Coolroom also says that the service will be, "simultaneously available across the internet and Microsoft Media Centre via OnLine Spotlight", adding that, "Coolroom is the first service to enable users to wirelessly transmit premium content around the home via Intel Viiv technology".

Visit the UK side of OnLine Spotlight and you'll see that, right now, it only shows two film and TV download movie sites - CinemaNow and TVTonic. We decided to find out more about these offerings - the better to comment on Coolroom - so signed up to a free one-week trial for CinemaNow and spent some time on it using Internet Explorer 7 under Windows XP Pro.

CinemaNow offers quite a bit of content free to all subscribers and so we browsed some of the selection of free streaming videos. Unfortunately, large numbers of them are, we thought, rather second-rate.

We were also underwhelmed by most of the paid for stuff, which typically costs $9.99 a download. Among the dross, though, there is some gold, such as a rather splendid music video of the 70s singer James Taylor -

James Taylor Live at the Beacon Theatre

- which is free to all subscribers.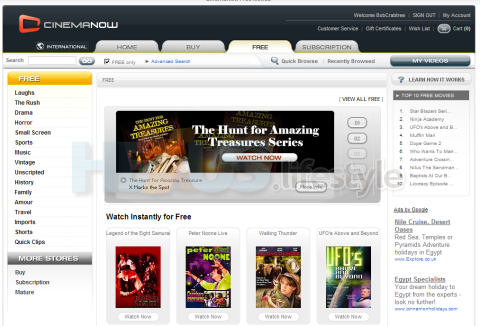 Free stuff available to all CinemaNow subscribers


We wondered how a site with so little high-class content could stay in business and it took us a little while to twig.

But we did eventually realise that there's rather more to CinemaNow than we'd imagined and a lot more than you might expect from its family-orientated front-end.

To find out what's behind the facade, dive over to page two.

Those of you who are morally offended by highly-naughty videos, though, might care, instead, just to read Intel's press release about Coolroom on page three.