A few hours ago at an event in Los Angeles, Tesla launched a couple of very interesting, envelope-pushing, new vehicles. For performance automobile fans it launched the new Tesla Roadster, claimed to be the "quickest car in the world" with quoted 0-60mph of 1.9s, a top speed in excess of 250mph and a range of 620 miles. Tesla also showed off the first electric semi-truck which will save 20 per cent on fuel compared to a diesel truck, offers better acceleration and uphill performance and a 500 mile range.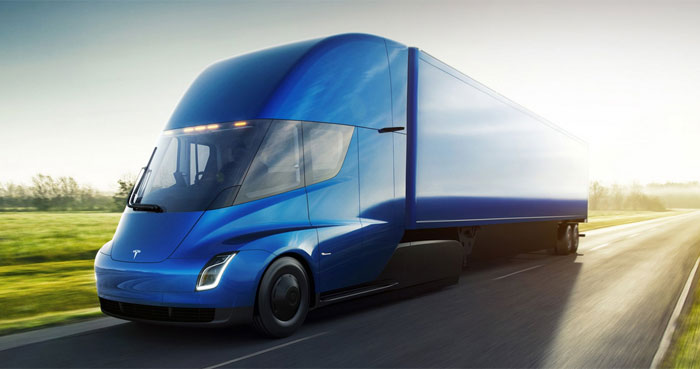 Tesla Semi
The Tesla Semi is the company's first challenge to the diesel-powered cargo hauling fleets of trucks. Going into production in 2019, the Tesla Semi has a number of compelling attractions which should guarantee some market penetration:
500 mile (800km) range on a single charge at full weight capacity and highway speed
30 minutes charging can extend the range by another 400 miles (640km)
20 per cent cheaper to run per mile than diesel trucks (claimed to be cheaper than rail)
Faster acceleration than a diesel truck
Better uphill performance than a diesel truck
"Thermonuclear explosion-proof glass" in the windscreen
Drivetrain guaranteed for one million miles (40 trips around the earth)
Enhanced autopilot, lane keeping tech, and jack-knifing resistance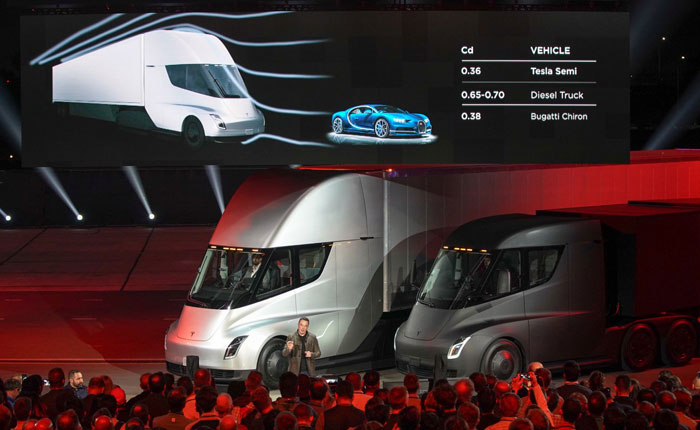 The trucks look rather futuristic and sleek. At the reveal presentation Elon Musk claimed that the Tesla Semi offered better aerodynamics than a Bugatti Chiron.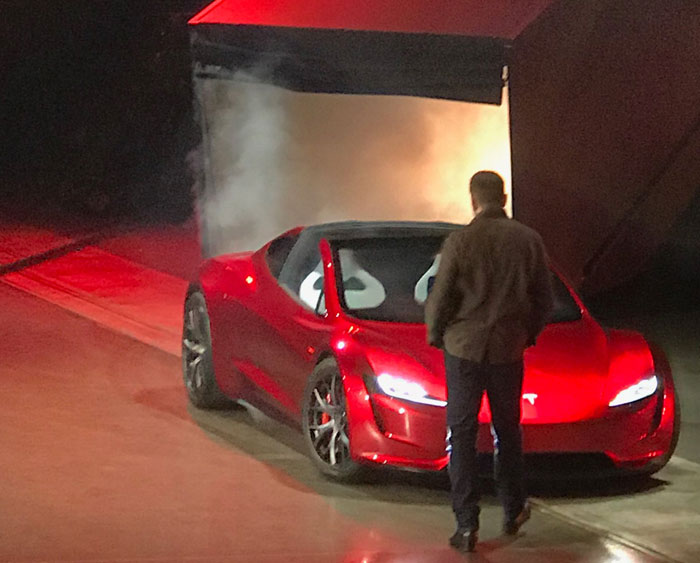 The new Tesla Roadster
Tesla's new Roadster caused a bit of a surprise as, with a touch of theatre, it drove out of the back of the Tesla Semi trailer as Mr Musk wrapped up that part of the presentation (see above). As mentioned in the intro, this is a sports car targeting those with a thirst for performance, with its quoted 0-60mph of 1.9s, wheel torque of 10,000Nm, a top speed in excess of 250mph, and a range of 620 miles.
During his presentation of the new Roadster the Tesla CEO told the crowd that "You'll be able to travel from LA to San Francisco, and back, at highway speed without recharging. The point of doing this is to just give a hardcore smackdown to gasoline cars." Musk went on to boast that "Driving a gasoline sports car is going to feel like a steam engine with a side of quiche".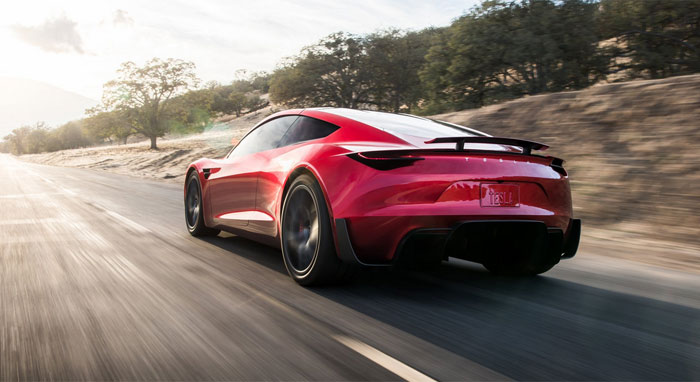 Beyond the performance stats the Roadster is an appealing looking vehicle with premium touches inside and out. Of particular note is the removable glass roof convertibility. Interestingly for a sports car, you can seat four people inside.
You wouldn't expect the new Tesla Roadster to be cheap, and it isn't. Founders Series cars will cost $250,000 with a thousand order slots available today.