Jaguar Land Rover looks set to move away from solely petrol or diesel engine vehicles. The carmaker says that by 2020 all its new models will be fully electric, plug-in hybrid and mild hybrid vehicles, reports the Evening Standard. Starting today at a 'Tech Fest' at the University of the Art's Central Saint Martin's campus, London, and running until Sunday, Jaguar will be showing off its vision for the future or motoring.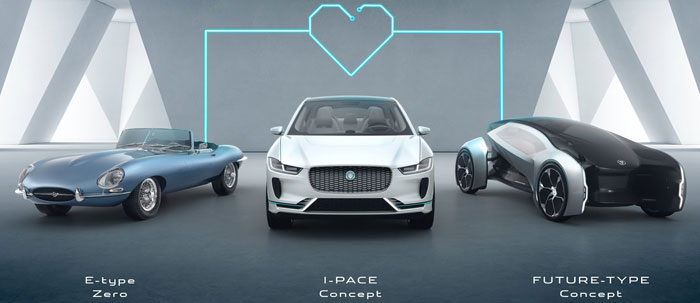 Jaguar Land Rover CEO Dr Ralph Speth announced that "Our first fully electric performance SUV, the Jaguar I-PACE, goes on sale next year," in a statement coinciding with the electric drivetrain schedule announcement. A pair of exciting, electric concept vehicles were also revealed.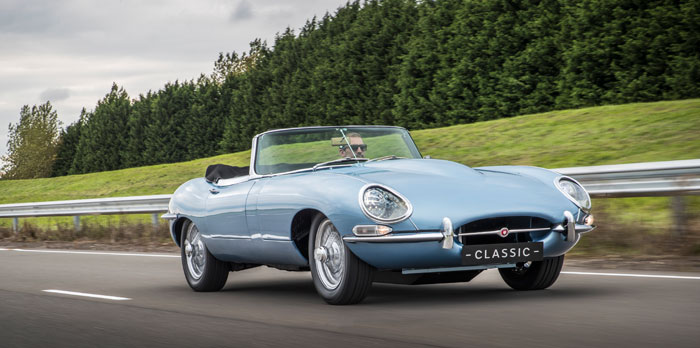 Jaguar E-Type Zero
As you might guess from the name, this is an all-electric version of the classic (1968) Jaguar E-Type sport car. Now re-imagined for the 21st century, the E-Type Zero can go from 0-62mph (0 - 100kmh) in 5.5 seconds - that's about a second quicker than the petrol powered Series 1. Furthermore, the electric car's advanced 220kW drivetrain and 40kWh battery offer a range of approx 170 miles or 270km on a single charge.
The Jaguar E-Type Zero was engineered at the company's 'Classic Works' in Warwickshire, UK. Those who attend the 'Tech Fest' in London this weekend will be able to see the E-Type Zero in the flesh. It will be on the exhibition floor alongside the all-electric Jaguar I-PACE which goes on sale in 2018.

Jaguar Future-Type Concept
Looking beyond its planned 2020 electric drivetrain adaptations, Jaguar also revealed the Future-Type Concept car - a vision for 2040 and beyond. The Future-Type will be fully autonomous, but also driveable when you feel the urge. Jaguar also foresees an on-demand automotive future where less people will own cars, instead they will be summoned from a pool of available vehicles by app etc.
The Future-Type concept is probably less interesting than Jaguar Land Rover's rather sudden planned move to electric and hybrid vehicles, the working and drivable E-Type Zero concept, or coming-soon Jaguar I-PACE SUV. You can check out the video above, concerning the Future-Type, but 2040 is so far away this concept is mere whimsy.
The Jaguar Land Rover Tech Fest at Central Saint Martin's, London, is free-to-enter and open from today until Sunday 10 September.