The news



Panasonic is bringing to the UK this month the company's first LCD home cinema project to offer full high-definition (1,920 x 1,080) images. The PT-AE1000 - which has been available in the USA for some while - is reckoned to be able to put up a massive 100in (diagonal) picture when located just 1.24 meters (5ft) from the screen and to offer an impressive contrast ratio of 11,000:1 and brightness of 1,100 lumens.



Likely price for the PT-AE1000E is around £3,500 (inc VAT) - and that, we're pleased to say, compares favourably with the tax-exclusive ticket that the PT-AE1000U carries in the USA of $6,000 (£3,040).

The projector's high brightness is in part because of a new optical system using what's described as a "unique aspherical glass lens system" that cuts down light dispersion to help keep images crisp and vivid.

Panasonic says that there's also a new colour-filter system - Pure Colour Filter - to ensure the purity of primary colours, deeper, purer blacks and an enhanced breadth of colours.
Unusually, a waveform monitor is included to measure the brightness of different video sources and provide a graphical representation of changes made to colour settings. This is paired with a colour-management system reckoned to be akin to that used for colour-correction in movie studios.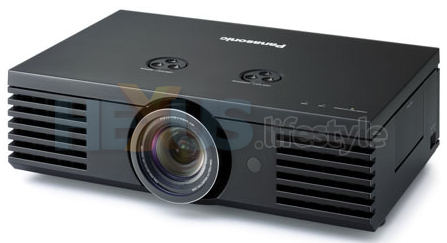 Setup is reckoned to be easy and the positioning of the projector very flexible, thanks to a lens-shift claimed to offer 100 per cent vertical adjustment and 40 per cent horizontal. Maintenance is also said to be easy, even if the projector is ceiling-mounted, due to the convenient side location of the filter and top location of lamp (which becomes the bottom when the projector is in place).

Desperately fancy one of these new Panasonic beauties? Let us know your thoughts in this thread in the HEXUS.lifestyle.news forum but, first, check out the company's press release on page two.


HEXUS.links
HEXUS.community :: discussion thread about this article
HEXUS.lifestyle.headlines :: World's largest plasma available to order from Panasonic UK at £50K, plus installation
HEXUS.lifestyle.headlines :: Panasonic unveils full product line up
HEXUS.lifestyle.headlines:: Sony & Panasonic intro HD camcorder format - AVCHD - using 8cm DVDs


External.links
Panasonic UK -

home page


Panasonic USA - PT-AE1000U home page