Matsushita Corporation's 'key product'



Panasonic UK is now taking orders for what it describes as being the key product across the whole Matsushita Corporation - a 103in giant plasma screen (the world's biggest) - and one of these 1080p/full high-definition big boys is all yours for just £50,000.



Well, a bit more, actually, because that price includes VAT but not the cost of a site survey or installation - both of which are mandatory when the screen is bought by consumers, rather than for professional use by hire companies or in airports, indoor sports arenas, colleges and other venues. And most are expected to end up being used for pro applications, instead of for "VIP home-cinema" use, as Panasonic quaintly describes the indulgences of the ultra-rich.

The mandatory survey and installation are Panasonic's way of trying to avoid come-backs from consumers caused by the beast's huge size and weight. Not unreasonably, it seems to think that wealthy consumers are more likely to take a rose-tinted view than pros of how easy the screen will be to accommodate. It might also be a way of putting off speculators who are considering ordering screens and selling them on at a profit.

Out of its transit packaging, the 9-Series, ninth-generation screen, model TH-103PF9 (for that is its unassuming name), is 2414mm wide (call it 8ft if you want). When mounted on its pedestal stand, it's 1748mm tall (5ft 9in) and 871mm (2ft 10in) deep but without the stand, it's only (only!) 1421mm (4ft 8in) high and 141mm (5.5in) deep. It weighs in at a hefty 220kg, with the stand adding a further 108kg.

It's so big that doors, windows or walls may need to be removed to squeeze it into a house - with cranes quite possibly part of the equation according to Panasonic!

Once it is in, it'll need to be very securely fitted in place and that's why there are three fixing eyes along the top - the height of which is not included in the measurements above, though we assume the eyes are removable or fitted on site.

Panasonic brought a pre-production sample to the UK and this was on show in London for the first time yesterday. The screen was No.2 of a run of six that was built last December and has been touring the world since. The same unit was displayed at CES in January and, yesterday, looked to be in pretty good nick despite its travels.

The picture was very watchable in a normally-lighted room with curtains open but wasn't perfect. Motion artefacts were clearly visible in the introduction to the animated movie

Ice Age 2

being fed to the screen by a Panasonic Blu-ray Disc player. The company says, however, that a lot of work has been done on development since the screen was built and it claims that such problems definitely won't occur on the screens that are being sold.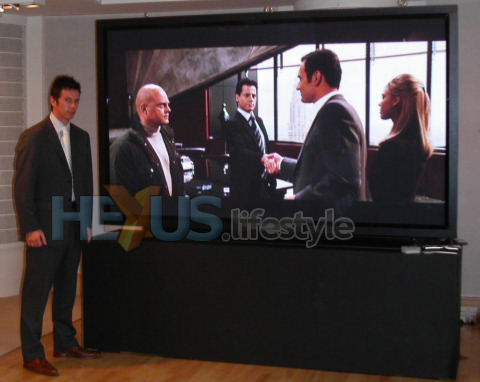 Neil Colquhoun, UK chief of pro plasma and projector

sales, in London yesterday with the prototype 103in screen.

The unit on show had a built-in stand and was sitting on a plinth


We'd know whether to comment further if we'd been able to run the same animated film through a 65in sister model (TH-65PF9) that was also being displayed. This was not a prototype but a finished product that came available to buy this month (price details are hazy but we'll try to update this piece later in the day).

However, Panasonic told us it didn't want to change anything about the set-up of the 65-incher - which, slightly worryingly, wasn't showing fast-moving footage from any of its feeds - so we had no opportunity to properly check.

It's worth saying, though, that the image above and below (click either for a larger image) aren't scammed up. What you're seeing on the screens is what we captured using a cheap digital stills camera handheld but still aren't a patch on seeing the screens in the flesh.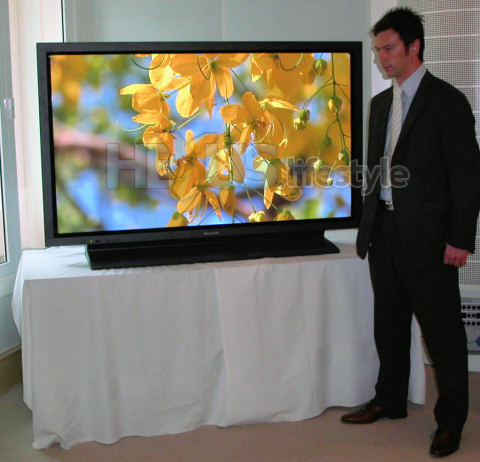 Neil again, this time alongside the 65-incher for a size comparison


We won't pretend to have an expert eye, but were impressed by the 103-incher and by the 65in model. Also, (perhaps rather stupidly) we were surprised at how very wide their viewing angles were - not just left/right but from the top and bottom, too.

Okay, we're making one assumption here because we couldn't look at the 103in screen from the top, not having a ladder, but we did clamber on a chair to check out the 65-incher and grovel on the floor in front of both.

Panasonic is surprising modest about the wide viewing angles. It doesn't even bother to detail them in the specs (shown on page two) and told us that wide viewing angles are an absolute requirements since the screens can be used not just in landscape mode but also in portrait mode - as they very often will be for signage - and are frequently mounted high up, irrespective of orientation.

The shots above give you an idea of just how big the 103in really is but, for the record, the screen area itself is claimed to measure about 89in wide by 50in high - equivalent to four 50in panels.

Anyone with brains as well as money and reason enough to buy a 103-incher isn't going to do so before having a dem of a production model and Panasonic UK clearly realises that it's going to have to make screens available for purchasers to check out.

There's not going to be one in every High Street but the company is planning to have two permanently on show in the UK - one at its headquarters in Bracknell, Berks, and another in a store in London's Oxford Street, which one, though, it wouldn't say.

Like a supercar, you'll have to leave a deposit and wait - currently for around three months - while the 103in screen is assembled for you in a factory Japan outside of Yokohama, then shipped over.

A range of customisation options is available during the build but rather fewer than is offered for two smaller 1080p 9-Series sister screens, the 65in TH-65PF9 and a 50in model, TH-50PF9, due before the end of the year. The 50-incher is arriving after the 65in because, Panasonic says, it has the smallest pixels of all three of the 1080p HD models and this has required extra development work.

A wall-mounting bracket is one of the options for the 103-incher, the only other variations, seemingly, are to do with what input boards are fitted into three slots located around the back. As standard, the TH-103PF9 has two of these filled - one with a DVI board compatible with UXGA (the TY-FB9DD), the other with an analogue component video board (TY-42TM6A) that uses BNC twist-fit connectors.

In addition, it has two integrated inputs - a 15-pin D-sub for an analogue PC connection (what a waste!) and a nine-pin D-sub RS232C serial interface for control and monitoring.

There are 11 other input boards that could be selected, ranging from composite video or RGB or Scart, through SDI up to HDMI and HD-SDI.

All of the above options are available on the 65in and 50in models as well and these smaller screens can also be fitted with detachable side-mounted speakers and anti-glare filters or touch panels.

Specs are detailed on the next page, as are some of the features that Panasonic claims are critical to the high picture quality offered by the three 1080p models.