The news



Creative makes an astonishingly big claim for

a new little device - the Xmod - due to arrive this month. The

USB-powered gadget

is said to make MP3s and other digital music files sound better than the original CDs!



The Xmod, £60 in the UK and $80 in the USA, is used in-line - the output from a music player (or to PC's speakers) being fed onwards to headphones or to the speakers.




It's ability to wrought this magical improvement in audio quality is put down to the use of Creative's X-Fi Xtreme Fidelity audio technology, with music being converted in real time to 24-bit virtual surround sound.

In the process, the Xmod is said to enhance the low and high frequencies while improving audio dynamics for cleaner, richer sound. There are two sides to the X-Fi Xtreme Fidelity technology - X-Fi Crystalizer and X-Fi CMSS- 3D.

X-Fi Crystalizer is said to upconvert music by analysing and identifying which parts of the audio stream have been truncated or damaged during compression. It's reckoned to intelligently and selectively restore the highs and lows - such as snare drums, basses, cymbals crashes and guitar plucking - that are damaged during compression.

X-Fi CMSS-3D is what creates virtual surround sound - through speakers or headphones. It's reckoned to use "advanced techniques" to place specific audio elements, such as the voice of a movie character, in a virtual centre channel while ambient sound is heard through virtual surround channels.




The gadget can't be used out and about - it's normally powered from a USB socket. So that also means you'll need an optional mains adaptor if Xmod is going to feed audio from your portable music player to a hi-fi system that's not nearby a computer or another device with a powered USB output.

Xmod is, though, supplied with a suitable USB cable, along with earphones and, kind of perversely, a carrying pouch.






Smoke and mirrors? Maybe. But we've asked Creative for a review sample (not due, though, for a couple of weeks) and will tell you what difference the gadget seems to make to our cloth ears.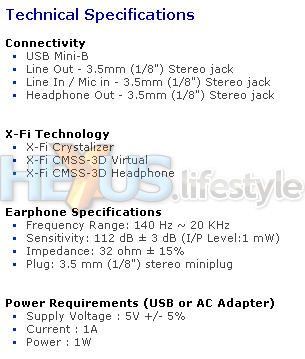 Check out Creative's press release on page two and share your thoughts with us in this thread in the HEXUS.lifestyle.news forum.


HEXUS.links
HEXUS.community :: discussion thread about this article


External.links
Creative - Xmod home page
Creative - Xmod animated demo page
Creative - X-Fi Xtreme Fidelity home page