The news





Microsoft continues to tease, revealing more details about its

Zune portable media player, an

iPod rival being launched in the USA for Christmas. It's also confirmed that there will be an accompanying online store - the Zune Marketplace - to challenge Apple's iTunes store. The company gave no clues about pricing but, according to ABC news, a mistake by Wal-Mart's web site (which we reckon could just be another well-orchestrated leak) shows that the first Zune might sell for US$284.

Key features of the first Zune are its 30GB hard disk, built in wireless capability (for Zune-to-Zune file-sharing), integral FM radio and "bright" 3in screen - suitable for video as well as stills. The player will come in three colors. Black and white are offered, of course, but so also, rather unusually, is brown.

Zune users can share files between themselves wirelessly, though music that has been purchased from the Zune Marketplace can only be played by the recipient three times over three days. If someone likes a particular track, it can be bookmarked within the Zune and, according to Microsoft, "easily purchased from the Zune Marketplace".

Tracks can be bought individually (prices as yet unknown) and Microsoft will also offer a "Zune Pass" flat-fee subscription (price as yet unknown) that's said to let users download as many songs as they want.



The Zune will come pre-loaded with music and video from various record labels, including, it's reckoned, DTS, EMI Music's Astralwerks Records and Virgin Records, Ninja Tune, Playlouderecordings, Quango Music Group, Sub Pop Records and V2/Artemis Records.

Microsoft claims that there will be millions of songs on the Zune Marketplace but makes no mention at all of video and that's a bit strange given that Apple's US iTunes Store has been selling downloadable TV programmes since October and moved into selling movies last week.

Like Apple, though, Microsoft will be supplying controller software to use on a PC and this will also give access to its online store. However, unlike Apple's iTunes software, the Zune program will be available only for Windows PCs, not Mac as well.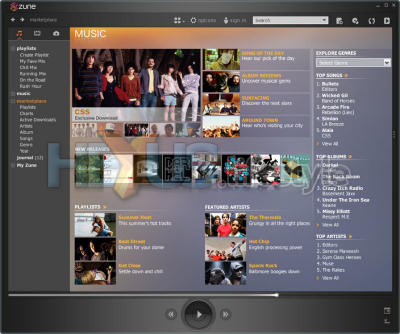 At launch, Microsoft will be selling three accessory packs for Zune - one for in-car use, one for home and one for travel - the components of which will also be sold separately. The company also says that it's working with top accessory makers who'll be supplying their own extras. Names on the list include Altec Lansing, Belkin, Griffin Technology, Harman Kardon, JBL, Jamo, Logitech, Targus and a whole bunch more.

Oddly, the in-car pack is said to consist of a charger and an FM tuner with AutoSeek. Presumably, what's actually meant is an FM transmitter, so that the car's radio can pick up what Zune is playing, but we'll have to wait and see.

The home AV pack has five elements, an AV-out cable, a Zune dock, a "Sync" cable (we think that's an audio-out cable but it might not be, it might be USB or something else entirely), an AC adapter (implying, worryingly, that this doesn't come as standard with a Zune) and a wireless remote handset.

For travel, there's a five-accessory pack containing "Premium" earphones, a "Dual-Connect" remote (pardon?), a Zune Gear Bag, a Sync cable and an AC adapter.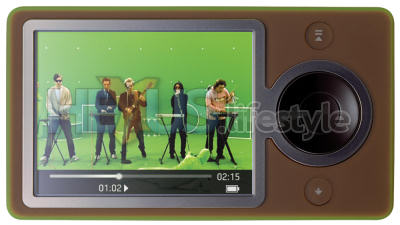 Check out the main Zune press release on page two, the "fact" sheet on Zune on page three and the "fact" sheets about Microsoft's trio of accessory packs on page four.

Do that, though, and you'll see that Microsoft is continuing to tease. There are still many unanswered questions about Zune, including expected battery life, screen resolution, prices of file downloads (and maybe of Zune itself), likely arrival of TV and movie downloads, the type of wireless technology used, PC connectivity, what comes in pack and product availability outside of the USA.



Update - September 20, 12:00





Read the small print. Then read it again. That's the lesson to learn from legal documents and it also applies to press releases.

The Zune "fact" sheet (see page three), has this to say about importing music:



• Import your music. Zune software can automatically import your existing music, pictures and videos from iTunes and Windows Media® Player in a variety of formats, including your existing playlists and song ratings, as permitted by the online service from which it was purchased.4


Note, though, the superscipted figure

4

at the end. Then scroll down to the Notes section below, and see what that number refers to:

4. Zune software can import audio files in

unprotected

[our emboldening] WMA, MP3, AAC; photos in JPEG; and videos in WMV, MPEG-4, H.264.

Well, we missed the signifance of that note but some others didn't, notably the Electronic Frontier Foundation - scourge of all companies and organisations that implement copy protection in stupid or unreasonable ways.

In an editorial headed, Microsoft's Zune Won't Play Protected Windows Media, the EFF had this to say about the latest Zune news,

In yesterday's announcement of the new Zune media player and Zune Marketplace, Microsoft (and many press reports) glossed over a remarkable misfeature that should demonstrate once and for all how DRM and the DMCA harm legitimate customers.

Microsoft's Zune will not play protected Windows Media Audio and Video purchased or "rented" from Napster 2.0, Rhapsody, Yahoo! Unlimited, Movielink, Cinemanow, or any other online media service

. That's right -- the media that Microsoft promised would Play For Sure doesn't even play on Microsoft's own device. Buried in footnote 4 of its press release, Microsoft clearly states that "Zune software can import audio files in unprotected WMA, MP3, AAC; photos in JPEG; and videos in WMV, MPEG-4, H.264" -- protected WMA and WMV (not to mention iTunes DRMed AAC) are conspicuously absent.

This is a stark example of DRM under the DMCA giving customers a raw deal. Buying DRMed media means you're locked into the limited array of devices that vendors say you can use. You have to rebuy your preexisting DRMed media collection if you want to use it on the Zune. And you'll have to do that over and over again whenever a new, incompatible device with innovative features blows existing players out of the water. Access to MP3s and non-DRMed formats creates the only bridge between these isolated islands of limited devices.

So, in general, the device that Microsoft is aiming to gut the iPod with does three things really well. It screws legal music customers, screws partners, and actively advocates breaking the law to use. What a wonderful world we live in, all brought to you by the letters D, R and M, and the term infection. Seriously, you can't make this stuff up.



Ho hum! Thoughts? Share them with us in this thread in the HEXUS.lifestyle.news forum.


HEXUS.links
HEXUS.community :: discussion thread about this article
HEXUS.lifestyle.headlines :: Microsoft confirms launch of music player (and more) under Zune brand
HEXUS.lifestyle.headlines :: Zune's the final name of Microsoft's Argo portable solution. Or is it?
HEXUS.lifestyle.headlines :: Video iPod in 30/80GB versions with brighter screen & games play
HEXUS.lifestyle.headlines :: Apple movie downloads (US only) & network media player (yawn)

External.links
ABC News - Price Leaked for Microsoft's Zune?
Electronic Frontier Foundation - Microsoft's Zune Won't Play Protected Windows Media
The Enquirer - Zune won't play MS DRM infected files