Wish list
In what could prove a pricey Christmas for Santa and parents, a survey of American kids by Nielsen has discovered that Apple's iPad is the most wished-for gift, trumping 'computers'.
Almost a third of US kids aged between 6 and 12 want an iPad, according to the research while Apple's new iPod touch is the third most wanted piece of tech.
Apple's new products have trumped games consoles across the board although Nintendo's DS and Sony's PSP both of which have been around for ages are surprisingly popular and beat new or eagerly anticipated products such as Nintendo's 3DS due out this Spring or Sony's Move and Microsoft's Kinect peripherals for their respective consoles.
Here's a chart from Nielsen of kids' dream wish list.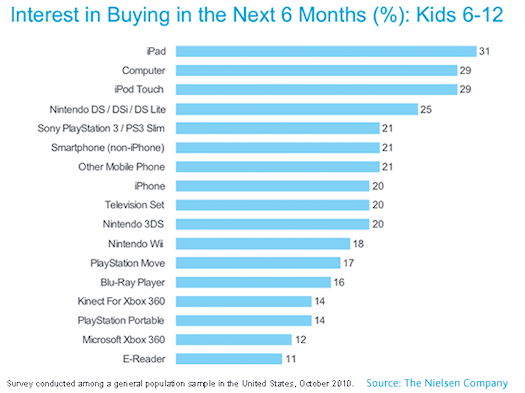 Among US consumers over the age of 13 upgrades of already-owned devices are popular, with many people hankering after a new computer, TV or smartphone. Echoing the demand of younger peers, people over 13 years old also want an iPad with 18 percent eyeing up the tablet du jour. The survey found that emerging technologies such as Blu-Ray players and e-readers 'have good traction with teens and adults'.
Console interest among the over 13s is led by the Nintendo Wii and followed by Sony's PlayStation 3 then Microsoft's Xbox 360. The report said the Move and Kinect peripherals for the PS3 and Xbox respectively have gathered 9 percent and 8 percent interest from adults, although this was before Microsoft's epic Kinect marketing drive.
"Given the continued pressure on consumer spending, it is difficult to know how robust a holiday season this will be for tech devices, but this survey suggests the electronics aisle will be heavily travelled this season," the survey said.
Here's another chart form Nielsen for the low down on most-wanted tech.