HP source
Intel has published its annual report for the year ending 27 December 2008 and it reveals that Hewlett Packard (HP) is now its biggest single customer, accounting for 20 percent of its net revenue, up from 17 percent a year ago.
This means HP has overtaken Dell as Intel's best OEM mate. Dell accounts for 18 percent of Intel's net revenue, which is the same proportion as last year.
There was also a snapshot of which major operating segments Intel's net revenue is coming from and they confirm the trend towards mobility at the expense of all other segments, with 'other' comprised of the NAND, digital home, digital health and software and services groups.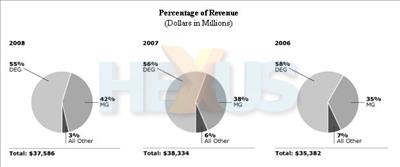 This second table focuses on microprocessor revenue as a percentage of overall revenue and appears to show that it's non-microprocessor revenue that's declining as an overall proportion.