Showing off
In an exclusive interview with HEXUS, NVIDIA's Tegra GM - Mike Rayfield - gave us a nice lot of details about the present and future of NVIDIA's chips based on the ARM instruction set.
The last time we spoke to Rayfield was nearly a year ago at MWC 2010 (pictured). At the time he was talking up Tegra 2 in tablets but, to be frank, there was little activity to back up his statements for the rest of the year.
But at CES 2011 Tegra 2 exploded. Not only does it run arguably the most significant product launch of the show - the Motorola Xoom - as well as the first dual-core smartphone - the LG Optimus 2X - it's set to appear in a bunch more products - especially Android Honeycomb tablets. On top of that we had the Microsoft on ARM announcement and the launch of Project Denver.
So we started our phone interview (Rayfield is based in the US) by asking if this year's CES was a good one. "In 25 years I can't remember a show that was this impactful," said Rayfield. "I've known for a long time that Tegra 2 is a kick-ass part; your phone is now a mobile PC."
We tried, in vain, to get a precise date for the launch of Google's Android Honeycomb OS, so we moved onto some other NVIDIA mobile partners. "We've been working with Motorola and LG for a long time," said Rayfield, and that seems to be paying dividends.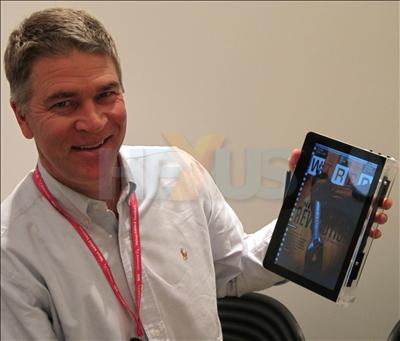 Rayfield has already candidly admitted a strategic error in coupling Tegra to Windows Mobile, when Android is clearly the growth mobile OS right now. Perhaps as a consequence of this Microsoft made Qualcomm the exclusive chip partner for WP7 and we were curious to know whether we can expect to see WP7 phone running Tegra one day.
"The next generation Windows announcement about running on ARM was demonstrated using a Tegra 2," said Rayfield. "We have a great relationship with Microsoft, but right now I'm focused on Android." We'll take that as a no.
But Rayfield is clearly looking forward to the launch of Honeycomb devices, and he couldn't resist an oblique dig at Apple's iPad. "A UI that's optimised for a tablet is going to be better than a stretched-out phone one," he said. "A real web experience involves Flash, not just an app for everything. The web doesn't crash."