Etailers
On the etail side of things it looks like Novatech got the pick of NVIDIA allocation for the UK, judging by the 50+ SKUs claimed on its homepage.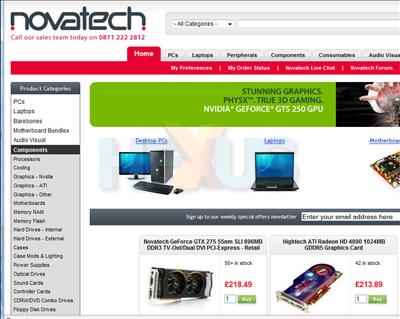 We spoke to commercial director Kriss Pomroy about stock allocation. "We know that some major players got good allocation; NVIDIA worked closely with some partners," he said. "Stock arrived here yesterday afternoon."
Pomroy was also quick to point out that Novatech has built systems based on both of the new cards and has updated the benchmarking first reported on by HEXUS last week.
Elan Raja, director at SCAN, said: "It's a competitive market and NVIDIA has delivered. While stocks aren't as great as for the 4890, there's still enough for a launch." SCAN is currently showing availability of the Palit 275, but doesn't specify quantities.