Microsoft has announced pricing details for the new, highly anticipated Surface for Windows RT tablet hybrid computer. The Surface is available now to pre-order in the US, the UK and selected other territories. An official tech spec list for the Surface was also released.
The Surface is "designed to be the ultimate stage for Windows" and we have just seen the first TV advert featuring this beautifully designed hybrid this morning. People have been speculating about the price since the announcement and showcasing of the Surface in June. We have had prices between $199 and $599 touted as the entry level for the new tablet hybrid. Unfortunately for us it is the latter price which was closer to home.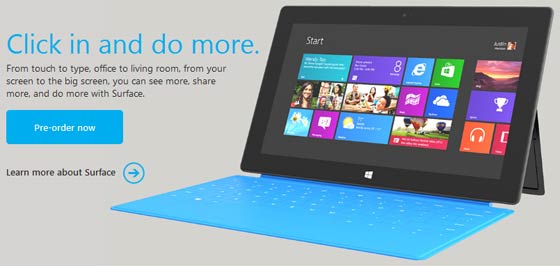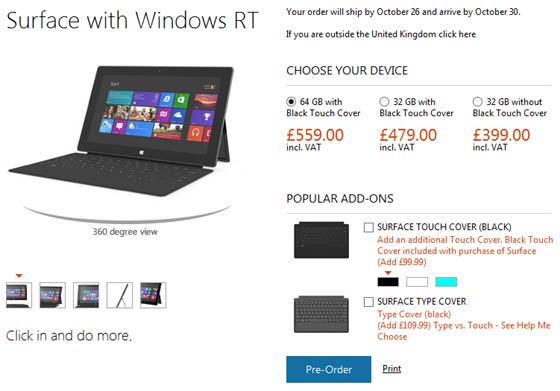 Microsoft Surface RT UK prices (including UK VAT)
32GB without Touch Cover = £399 ($499 on US site)
32GB with black Touch Cover = £479 ($599 on US site)
64GB with black Touch Cover = £559 ($699 on US site)
I've included US dollar prices from the press release and pre-order page for comparison and for US readers.
There are two add-on selections you can make when pre-ordering:
A Surface Touch Cover in black, white or cyan for £99.99 and a Surface Type Cover in black for £109.99.
US customers have more colour choices for the Touch Cover; white, red, black, cyan and magenta. This is just pre-order for now, when the Surface is launched I should hope the UK gets the full range of Touch Cover colours!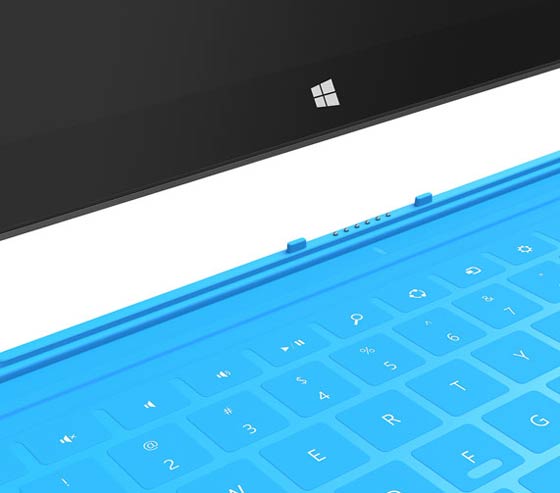 The specification of the Microsoft Surface for Windows RT
Software - Surface with Windows RT comes with Microsoft Office Home and Student 2013 RT Preview(which includes Microsoft Word, PowerPoint, Excel and OneNote)
Exterior - 10.81 x 6.77 x 0.37 inches, 1.5 pounds, VaporMg casing, dark titanium color, volume and power buttons
Storage - 32 GB or 64 GB
CPU - NVIDIA T30, 2 GB of RAM
Wireless - Wi-Fi (802.11a/b/g/n), Bluetooth 4.0 technology
Cameras - Two 720p HD cameras, front- and rear-facing
Audio - Two microphones, stereo speakers
Ports - Full-size USB 2.0, microSDXC card slot, headset jack, HD video out port, cover port
Sensors - Ambient light sensor, accelerometer, gyroscope, compass
Power Supply - 24W power supply
Warranty - One-year limited hardware warranty
Apps (included) - Microsoft Office Home and Student 2013 RT Preview (Word, PowerPoint, Excel and OneNote), Windows Mail and Windows Messaging, SkyDrive, Windows Internet Explorer 10, Bing, Xbox Music, Xbox Video, and Xbox Games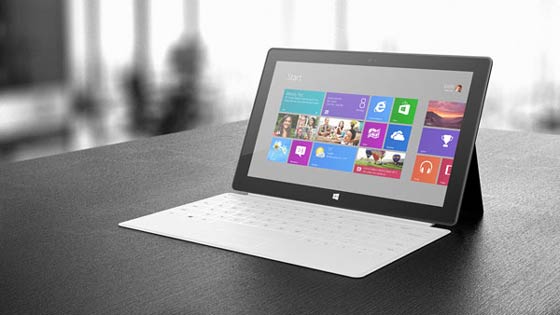 Surprise surprise
Is anybody really surprised by these prices? We have had a few prices of other Windows RT tablets in the news from OEMs such as ASUS and Lenovo. The Microsoft Surface RT price seems competitive with those fellow Windows based devices but isn't going to turn heads and impulsively open wallets like following the NEXUS 7 and Kindle Fire HD price announcements. However, many smartphones and iPad models cost £399 or more and they sell like hot cakes.