Lenovo have premiered "a new family of four convertible devices designed for Windows 8/RT". The four devices include two variants of the IdeaPad Yoga, the IdeaPad Lynx and the ThinkPad Twist. Each is aimed at a particular user profile from casual content consumer to IT professional.
Peter Hortensius, senior vice president at Lenovo said at the unveiling "We think these innovative convertibles are the best devices for a groundbreaking touchscreen experience, plus their multi-modes give people even more ways to use their PC." Let us have a brief look through the new devices to see what exactly is on offer.
IdeaPad Yoga 11 and IdeaPad Yoga 13
These two devices are Windows RT and Windows 8 pro devices respectively. As such most HEXUS readers will know that the Yoga 11 will be ARM based while the Yoga 13 is Intel based. Just like Microsoft's Surface tablets the choice is either an ARM NVIDIA Tegra 3 powered device or an Intel 3rd generation Core processor device. Unlike the Surface the IdeaPad Yoga machines have different screen sizes and attached keyboards. The Yoga displays are on a 360 degree hinge to allow you to "fold from laptop to tablet in one simple motion". The Yoga 13 is 16.9mm thick and has an 8 hour battery life. The Yoga 11 is just 15.6mm thick and has a 13 hour battery life.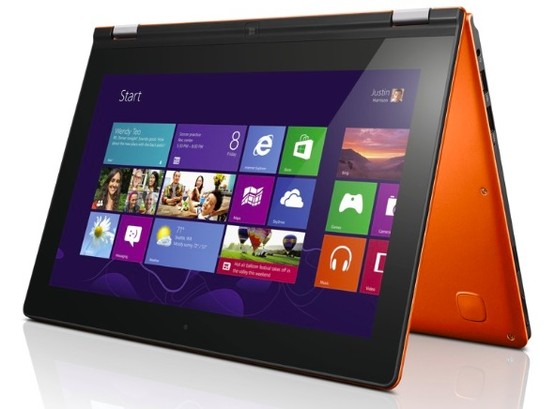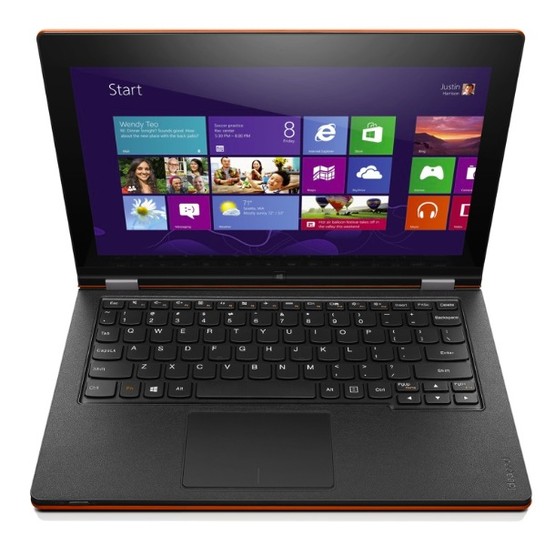 "The Yoga convertibles are a great example of the commitment Lenovo has made to continued innovation with Windows," said John Case, vice president, Worldwide OEM Marketing, Microsoft Corp. "The commitment is evident in the beautiful hardware designs that exhibit flexibility, mobility and extended battery life; combining that with the new capabilities of Windows 8 these PCs provide an experience that is sure to delight customers.
IdeaTab Lynx tablet
This is a Windows 8 tablet equipped with an Intel Atom processor. The 11.6-inch screened IdeaPad Lynx is light and portable and has an attachable keyboard accessory, as you can see pictured. Lenovo say "This feather light 11.6-in tablet caters to the mobile individual who wants to combine fun and work: users can interact with a variety of Windows 8 apps via its multi-touch screen when on the go or they can connect it to its keyboard for a full-function PC experience that includes writing documents in Microsoft Word, creating presentations in PowerPoint and building spreadsheets in Excel." With the optional Keyboard base the Lynx has an impressive 16 hours battery life.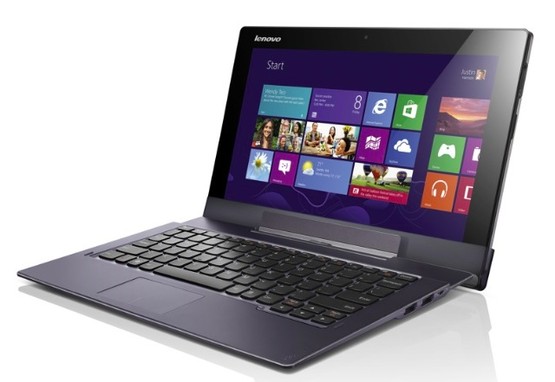 ThinkPad Twist
Lenovo say this is "one affordable device that can do it all". As you can probably guess from the name this is an Ultrabook convertible. The screen is 12.5-inches and you have a choice of Intel 3rd generation processor and SSD or HDD storage. The Twist has "all day battery life" and also importantly "the ThinkPad-brand's legendary keyboard" (I've never tried one but I'll take their word for it). In form it is a lot like the Yoga but has more power and further professional and enterprise features.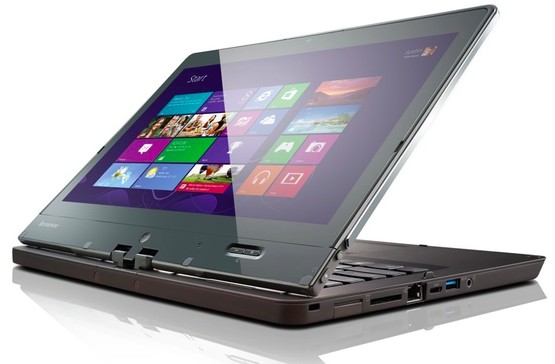 All the new Lenovo devices are offering the hardware to make the Windows 8 philosophy of two devices in one work more elegantly. Apple top brass refer to Windows 8's two in one approach as the "toaster/fridge" concept, even as its own iOS and OS X get closer and more entwined with every software update.
Pricing and availability
Good old Lenovo has let us in on these most important details but has only addressed US customers in the press release. The IdeaPad Yoga 13 will be available when Windows 8 is launched on 26th October priced at $1,099. The Yoga 11 is scheduled for December with an RRP of $799. The IdeaPad Lynx will also be available in December with an RRP of $599 plus $149 for the keyboard dock. The ThinkPad Twist will be available on Windows 8 launch day with prices starting at $849.