Notebooks equipped with HDD storage look to dominate the market for the foreseeable future according to a new report by IT focussed statistical analysts IHS iSuppli. The research firm found that laptops with a HDD capacity of greater than 500GB and priced between $450 and $550 held the biggest share of the market in Q1 2012. Models within this category accounted for 32 per cent of all notebook sales.
The IHS iSuppli research didn't include data about notebooks sporting hybrid technology hard drives, however these balanced performance and storage solutions are said to be quite popular in new Ultrabook models. Let's look at the IHS iSuppli figures on a chart;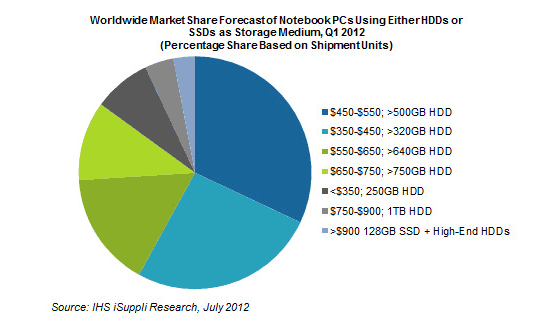 Commenting upon the research findings IHS iSuppli's Fang Zhang said "The market-share rankings show that SSD-based notebook PCs like Apple Inc.'s MacBook Air presently pose no threat to the much larger universe of HDD-based mobile PCs." He continued; "SSD-equipped notebooks are faster, more lightweight and sport a thinner profile - some of the characteristics that make them popular and desirable to consumers - but they are also more expensive and feature less overall storage space. The price of a MacBook Air with just a 64GB solid state drive can reach $999, while an HDD-based notebook PC at that price can boast significantly larger storage space."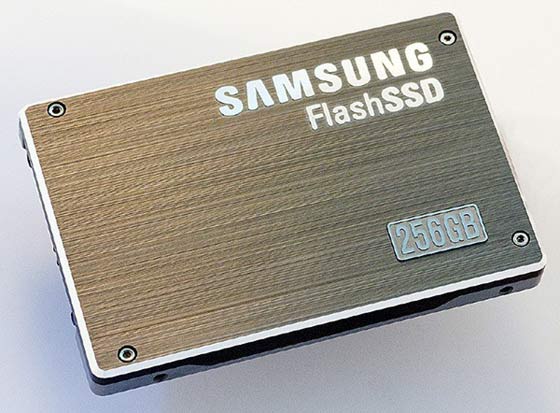 IHS iSuppli see the $700 price as pivotal in notebook sales. It believes that if SSD equipped notebooks become widely available under that price then they will really start to take off in sales volumes. I think little bit more capacity wouldn't hurt either, with the sales prices of SSDs falling 250GB drives are about the price 120GB models were a few months ago. People don't like to feel that their new super fast portable computer is going to be struggling for storage space in a few months time.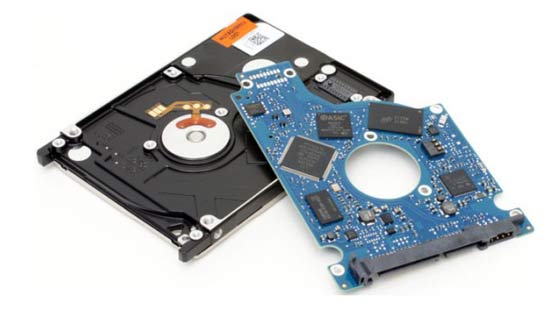 Seagate Momentus hybrid drive in pieces.
Storage is something experienced computer users always know they will need more of, so traditional HDDs are very appealing, offering a great combination of capacity and keen pricing. People are using more megapixels, less compressed music formats, higher definition films and videos, all putting pressure on storage capacity. It will be interesting to see how the battle between SSD and HDD continues and if hybrid devices will be the capacity/performance/price winners in the sub $700 notebook segment at the end of the year.