HEXUS.snapshot :: Armari Gravistar XRS
If you had around £6000 (USD$10,600, CAD$12,500, €8,900 or about 28,300 Eastern Caribbean Dollars) right now, what would you spend it on? Think long and hard before carrying on reading. The size of the HEXUS.paypacket dictates that I'd pray to the God of VISA a fair bit and maybe think about a holiday. Maybe a small first car with which to teach my lazy ass how to drive.

I asked Steve, our awesome to the max News Editor, and he said "It'd go into my student account and pay my fees for the next two years". Poor Steve having to learn stuff, and, err, stuff. Steve and I's sensible use of six large didn't stop the geek inside screaming that it would use the fat wedge to pick up just one of what Armari sent over to Rys's House of Hot Hardware early this morning.

We've had a look at Armari's Gravistar XR before. Remember when dual-core Opteron launched and I brought our article up using an XR of theirs featuring Opteron 275? I do. The black beastie sat nicely against the backdrop of my huge cluster, new compute master showing old how it's done in 2005. The creaky old P3s in my supercomputer, while there's 18 of them, just can't keep up with four Opteron cores at 2GHz or more in most modern applications.

But that's the XR, not the XRS. The XRS is the XR in basic terms but with a mainboard that offers up most of its add-in card expansion slots in PCI Express form, not PCI-X. And that XR, while a bit beastly, doesn't have the spec of the XRS that Dan and his guys knocked up for me to evaluate.

Four 250GB hard disks, not two. Two Opteron 280 dual-core processors, not x75s. Two Quadro FX 3450s in SLI, not just one 3400 in not-SLI. See, that's where your rough 28,000 Eastern Caribbean Dollars goes. And I think Armari would probably ship to St. Kitts and Nevis, too. And be under absolutely no illusions that your money is buying something a bit special

I'm off for a few days though, so the full review will have to wait for a week or two. Until then, shots of the Gravistar XRS in badass black (the only colour, Armari getting all Ford Model T on us), looking mean and moody, to keep you dribbling until I get back.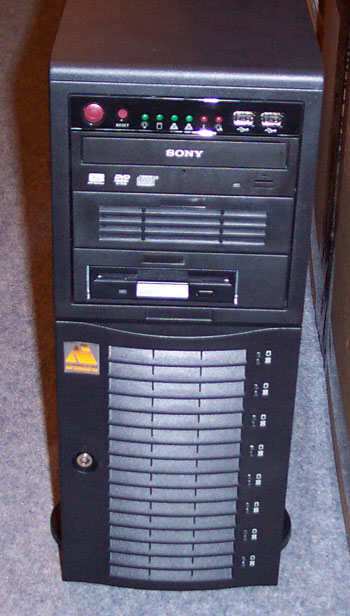 A Supermicro workstation/server chassis holds all the power
Sony dual-layer DVD burner and floppy drive sit above door to drives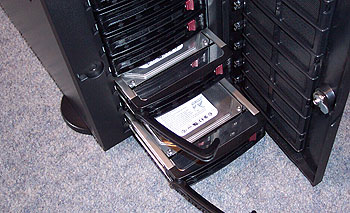 Two of the four 250GB SATA hard disks, supporting NCQ of course
Room for four more in the 8-bay removeable chassis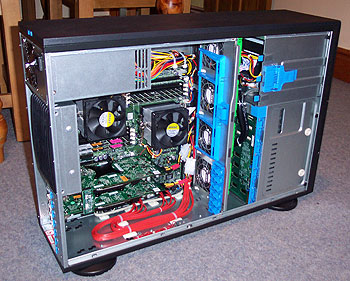 Why can't I ever integrate my own systems as well as that?
If I knew, I'd be working for Armari I guess!
Dual dual-core Opteron? Oh yes, 9.6GHz of cores to feed the SLI Quadros


More on the XRS in a couple of weeks. Arguably the UK's premier system builder, Armari also have something utterly bonkers for you to read about on HEXUS in the coming weeks. Stay very much tuned.