Introduction
Shuttle's got a good thing going, hasn't it? The company's compact PCs haven't changed much over the course of the past decade - they're still roughly the same size and shape - but they continue to get better through third-party innovations.
Each time Intel releases a new chip, you can rest assured there'll be a new Shuttle to go with it, and that's exactly what we have this new Barebone PC; the SH61R4.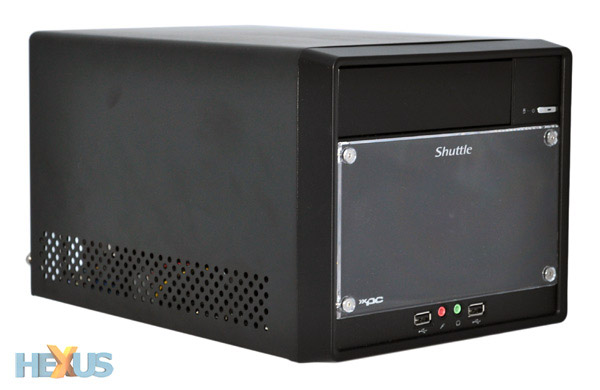 It looks... well, a lot like all the other Shuttle PCs you've seen in recent years, and differentiates itself with a slightly tweaked front face. This time around, Shuttle has opted for a clear acrylic panel that can be removed, allowing the user to slot in a photo or image of their own. Not a bad idea, and useful for office environments, where you might want the company logo adorning all of the computers.
This isn't the smallest PC you'll ever see - in fact, at 32.5cm x 21.5cm x 19cm in size - you could argue that the Shuttle is relatively big when compared to today's other slim-line computers. Outwardly, it's a recycled design that's hard to get excited about, but there are other elements that may attract attention.
One of those is the price tag. Currently available for less than £160, the SH61R4 represents an affordable and easy-to-setup route to high-performance computing. For your money, you're getting a tidy-looking chassis, an integrated power supply, built-in cooling and a motherboard that'll accommodate any second-generation Intel "Sandy Bridge" processor designed to slot into the LGA 1155 socket.
Going by today's prices, LGA 1155 Core CPUs range from £90 for a Core i3-2100, up to £280 for a range-topping Core i7-2700K. There are plenty of well-priced solutions in between, and every LGA 1155 chip includes integrated graphics. So, for around £250 all-in, you could bag yourself a compact PC with the latest Intel processor technology - all you'd need to add is memory and storage.
Hard-drive pricing isn't what it once was, so you may struggle to fully equip the SH61R4 for under £300, but it still represents good value for money, and, when compared with Shuttle PCs of yesteryear, it's every bit as easy to work with.
Granted, there's nothing groundbreaking about the design, but you tend to buy a Shuttle because you know exactly what you're getting; a tidy aluminium chassis that's easy to build into, able to accommodate the latest CPUs and roomy enough for a couple of high-performance upgrades.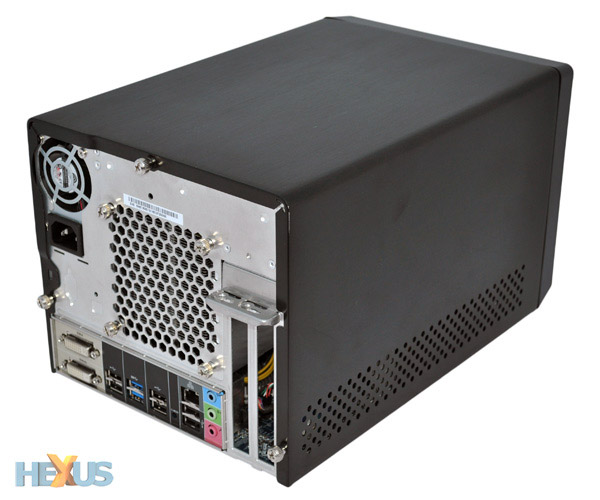 Is that all the boxes ticked? Well, not quite. As the budget option, the £160 SH61R4 misses out on some of the features available to the £220 SH67H3. You'll find that there are no front-facing USB 3.0 ports, the number of internal DDR3 memory slots has been cut from four to two, there's no built-in RAID support, and HDMI output has been axed in favour of two DVI connectors (DVI-I and DVI-D).
Shuttle, it seems, isn't aiming for the HTPC crowd with this one, and has its sights set instead on the small office/business environment. With that in mind, you get a total of 10 USB ports (two USB 2.0 up front, as well as two USB 3.0 and six USB 2.0 round back), front-and-back audio jacks, Gigabit Ethernet, and the capability to drive two independent displays.