Belkin USB Dual Media Reader/Writer Review
I'm sure that the recent, rapid emergence of removable, portable, and easy-to-use media has not escaped your attention. This is especially relevant to products that utilise CompactFlash and SmartMedia cards respectively. The proliferation of these devices, consisting of digital cameras, PDAs, MP3 players to name but three, have led to a demand for removable cards and associated readers and writers.
CompactFlash memory, first introduced by SanDisk Corporation in 1994, are relatively small 50-pin cards (43 x 36 x 3.3mm) that simply slot into a device and store images, data or music which can be written and rewritten 1000s of times. Cards range in size from 8MB to 1GB.
SmartMedia, on the other hand, is even thinner than CompactFlash cards, measuring only 47 x 35x .76mm in size. It differs from CF not only in size, but also by employing a different controlling mechanism. CF cards have a more advanced controller chip. Sizes are limited too, with larger cards being limited to 128MB in size.
With potentially 1GB of storage on offer, the end-user needs an effective method of transfer between device and a PC (where data is usually kept and manipulated). Most card-ready devices ship with a transfer link but it can be cumbersome and restrictive to say the least, especially if the transfer is initiated over a serial interface. Here is where our review product for today, the Belkin USB Dual Media Reader/Writer, will come in extremely useful.
Belkin are well-known for producing a broad range of peripherals for the PC and Mac. Let's now see just how good their readers/writers are.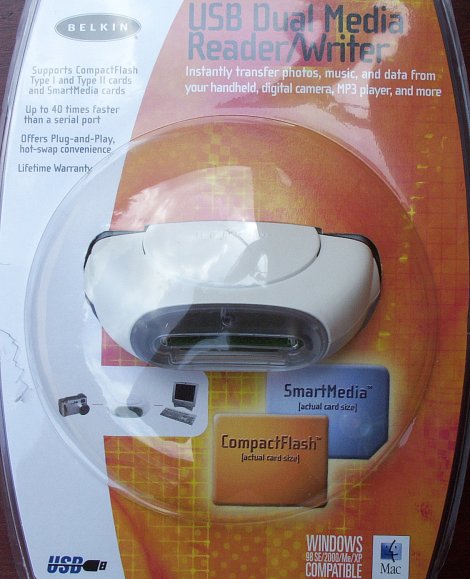 The packaging highlights the salient features quite well. The first aspect to note is that it's an USB-powered device, serial and parallel connections are a thing of the past. Compatibility has always been important in the peripheral world and we see that the reader/writer offers support for Windows 98/ME/2000/XP and the Mac straight out-of-the-box.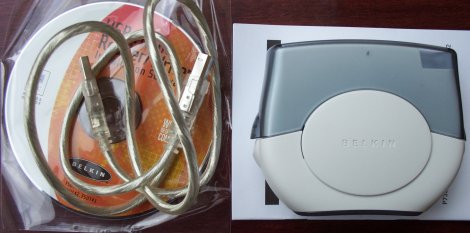 The reader/writer comes bundled with an appropriate USB lead, a brief instruction manual, and a driver/installation CD. Note the absence of a power supply. The unit is powered entirely by the host computer. Being an USB1.1-compliant device, we have 12Mbps speed on offer bi-directionally.

The front of the Belkin reader/writer houses an LED that lights up when data is being transferred, and the two compatible interfaces for CompactFlash and SmartMedia cards respectively. The slightly larger ComplactFlash cards are inserted to the 50-pin interface at the top and SmartMedia below, couldn't be simpler.

The back of the unit is sparse apart from the USB connection point. The modular nature of the unit means that multiple readers/writers can be stacked one on top of each other, minimising usage space.
It looks good, is sturdily built, carries a lifetime warranty with Belkin themselves. Let's now examine its specifications and performance.