Specification
The 3XS Graphite LG10 is officially categorised as a 'gaming laptop,' so it's no surprise to see Scan's online configurator offering a choice of components that would put most full-size desktops to shame.
As part of the base specification - priced at £990 - would-be buyers get their hands on a dual-core, third-generation Core i5-3210M processor, 8GB of Corsair Vengeance memory, a 500GB hard disk and a 2GB Nvidia GeForce GTX 675M discrete GPU.
The basic system has some oomph, but our review sample steps it up another notch or two. The above-pictured configuration costs £1,030 and introduces a few interesting alterations. For the slightly-higher fee, Scan upgrades the CPU to a quad-core Core i7-3630QM that will Turbo up to 3.4GHz, changes the GPU to a 2GB AMD Radeon HD 7970M, and swaps out the 500GB hard disk in favour of a 750GB Seagate Momentus XT Hybrid Drive that, in addition to operating at 7,200RPM, comes equipped with an onboard 8GB solid-state cache.
Scan 3XS Graphite LG10 Specification

Processor
Intel Core i7-3630QM (up to 3.40GHz, 6MB cache, quad-core, 45W)
Memory
8GB Corsair Vengeance DDR3
Integrated Graphics
Intel HD 4000
Discrete Graphics
AMD Radeon HD 7970M 2GB
Display
15.6in - 1,920x1,080
Battery
Eight-cell, 76.96 Whr
Weight
3,220g
Wireless
Intel Centrino Advanced-N 6235 (802.11bgn)
Storage
750GB Seagate Momentus XT Hybrid Drive
Operating System
Microsoft Windows 8
Warranty
2 Years Collect and Return
Scan's decision to use a hybrid storage device is an obvious one - the Seagate Momentus XT can provide SSD-like performance alongside ample capacity for all your games - but there is room to mix things up. Options for SSD-only configurations are available (you're looking at around £85 for a 240GB Corsair Force GS), and you can take advantage of the laptop's available mSATA slot, too. Getting perhaps the best of both worlds, you could configure a 256GB Crucial mSATA SSD alongside a 750GB 2.5in hard disk.
Memory can be bumped up to 16GB and for those feeling particularly flush, the list of available CPU choices ends with the quad-core Core i7-3940QM - a hefty £600 upgrade.
It's quite easy to put some serious hurting on the ol' credit card - maxing out the core components alone can take the price tag past the £2,500 mark - but Scan's default hardware should more than meet the needs of most gamers.
In addition to the powerful CPU and GPU combinations, the 3XS Graphite LG10 packs a matte 15.6in full-HD display, Onkyo speakers, a backlit keyboard, a fingerprint reader and a large eight-cell battery. Bluetooth and Wireless N connectivity are standard fare, as is the integrated webcam, though it's a surprise Scan doesn't include Blu-ray optics by default. The starting price includes only a DVD writer, and it's a £14 upgrade to move up to the Blu-ray reader that the 1,920x1,080 panel deserves.
The chassis' size is key to enabling the sort of components that will have little trouble handling today's latest games, and it also allows a good selection of I/O ports. The optical drive on the right side is joined by a selection of audio jacks, a USB 2.0 port and a Kensington lock. On the left side you'll find four-pin FireWire, Gigabit Ethernet, a trio of USB 3.0 ports (one of which doubles as eSATA) and a multi-card reader. In addition to all that, the rear of the laptop sports two large air vents, a power connector, and DVI, HDMI and DisplayPort outputs.
The Graphite LG10 is brimming with potential, yet the lack of refinement can be bothersome. The rear-middle position of the power connector makes it awkward to get plugged in - it's literally the furthest point from the user - and travelling with the bundled power adaptor takes some doing; it measures 85mm x 70mm x 43mm and alone weighs 750g. You'll need a sturdy rucksack and a strong back, that's for sure.
Display and Sound
Our biggest complaint about modern-day laptops is that they so often skimp on display resolution. Fortunately, Scan hasn't made the same mistake with the 3XS Graphite LG10 and includes a full-HD, 1,920x1,080 panel by default.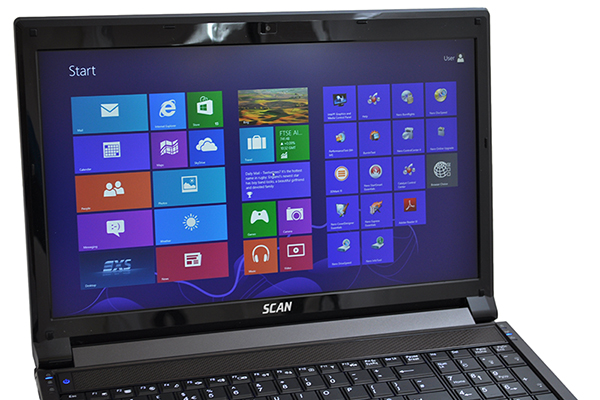 The screen resolution is ideal on a 15.6in machine, making text appear crisp and easily readable, and horizontal viewing angles are excellent - the image remains clear at almost 180 degrees. Vertical viewing angles aren't quite as forgiving, however the display is plenty bright and the matte finish is great for preventing unwanted glare.
This is an enjoyable panel and we reckon the Blu-ray upgrade is a must, but we did notice a subtle blue tint that suggests a bit of software calibration may be required.
It's on the audio front that the Graphite LG10 is less impressive. Given the size of the laptop we were hoping for an audio experience similar to that of an Asus N-series machine, but what we have instead is basic sound output. Like most laptops, the LG10 can provide ample volume but the sound is too tinny to properly enjoy multimedia content and, if you really appreciate your audio, you'll want to plug in a set of headphones.