User experience
Keyboard and trackpad
Chiclet keyboards are all the rage right now, but ASUS has gone for a more traditional layout on the N55SF. The laptop features well-sized keys that are closely knitted together to create a large expanse of silver. There's not a lot of room between keys, so infrequent typists may run into a mispressed stroke from time to time, but the keys themselves have just the right amount of travel and feel satisfying to the touch.
Coming from an older Dell Inspiron laptop allowed us to feel right at home on the N55SF, but a slightly unusual layout can throw you from time to time. The left side of the keyboard, where most users would expect to find Ctrl, Shift, Caps Lock and Tab, is lined with multimedia shortcut keys for volume, play and pause. We like shortcut keys as much as the next user, but the positioning here takes some getting used to.
And there are other awkward elements, too. The numpad, for example, is neatly integrated and always appreciated on a 15.6in machine, but ASUS has opted to squeeze the power button into the same section, and in doing so forces the End key to the next row. It's not a deal breaker by any means, but it does take some time to get used to the unorthodox key locations and the absence of backlighting won't help you in the dark.
There's nothing unorthodox about the large black trackpad, though. Sitting flush in the velvety palm rest, the multi-touch panel is well defined on the left and right edges and sports a smooth surface that responds well to both single- and multi-touch gestures.
Leaning over the edge of the palm rest are similarly large left and right mouse buttons. ASUS has integrated them both into a single button, but both the left and right sections are well defined, and there's good feedback to each press.
Display and sound
The keyboard and trackpad, then, are good, but the N55SF is really all about what comes next. Sitting directly above the large keyboard is a speaker system co-developed with Bang & Olufsen and an accompanying LED backlit display.

Starting first with the display, we've spent some quality time with ASUS's 1,600x900 panel and we like what we see. There's ample brightness and a very sharp image makes it a treat for playing back high-definition Blu-ray movies.
The display's matte finish helps keep reflections down to a minimum, but colours can look a touch pale and lack the pop of glossier screens. Viewing angles, however, are good from all sides, and the laptop's content sharing capability is further enhanced by the bundled 2.1 audio.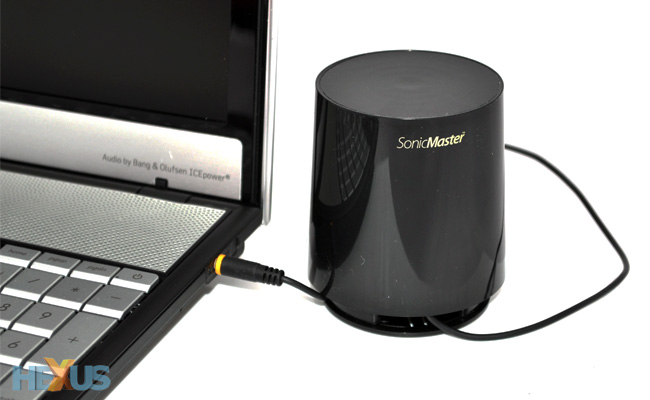 It's common knowledge that laptop audio has a tendency to be flat and lacking in any significant depth, but ASUS is hoping to change that perception with an audio system that consists of two integrated Bang & Olufsen stereo speakers, an external ASUS subwoofer and SonicMaster audio processing technology.
There's a lot going on, but the combination delivers outstanding results. You wouldn't want to go as far as to trade in your home Hi-Fi equipment, but we've never heard a laptop sound this good. The upward-pointing B&O speakers are loud and clear, and the compact subwoofer does an excellent job of amplifying bass to deliver a remarkably well-rounded sound.
The 2.1 package makes for excellent music and movie playback, but there are a few catches; the bundled subwoofer uses a proprietary connector, so don't expect to use it with other devices, and it also adds further bulk to an already-large laptop.
Software
ASUS's hardware has been clean-cut thus far, but the same can't be said about the N55SF's vast selection of pre-loaded software.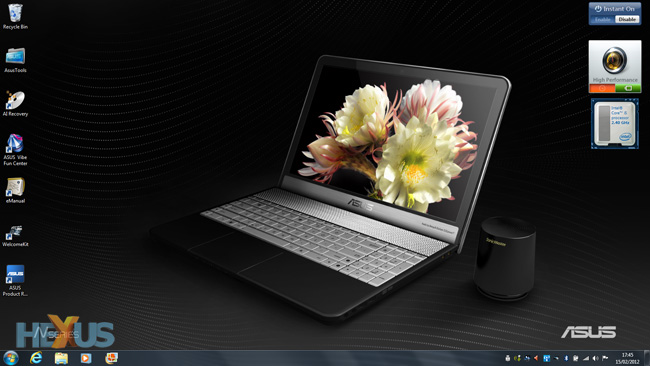 The desktop looks clean enough at first glance, but the slower-than-expected boot times suggest that there is plenty of pre-installed software working behind the scenes. A quick look at Windows 7's currently installed programs list tells us that a massive 74 apps are already in place. Some are less useful than others, but to give you an idea, you get all the following ASUS utilities; AI Recovery, FancyStart, Fast Start, LiveFrame3, Live Update, Music Maker, Power4Gear Hybrid, SmartLogon, SonicMaster, Splendid Video, USB Charger Plus, Video Magic, Virtual Camera, WebStorage, WinFlash, Wireless Console 3, and Vibe 2.0.
On top of all that, ASUS throws in the Bing Bar, a trial of Microsoft Office 2010, Windows Live Essentials, Nuance PDF reader, Trend Micro Titanium Internet Security and five Cyberlink utilities - LabelPrint, MediaEspresso, Power2Go, PowerDirector and PowerDVD 10. And that's without mentioning games such as Governor of Poker, Hotel Dash Suite Success, Luxor 3 and Mahjongg Dimensions.
We'd class a lot of the above as bloatware, and ASUS doesn't include a Windows 7 CD in the box, so clean-installing the OS isn't as easy as it might have been. We've even tried ASUS's pre-configured recovery partition, but that doesn't help - it'll restore Windows to the original factory state, but that includes all of the additional apps